Yellowhammer News has learned the Alabama Republican Party's candidate committee has removed at least three names from its May 24 primary ballot involved in state legislative races.
Senate District 21 GOP hopeful Tripp Powell, Senate District 10 hopeful Teresa Rhea and House District 10 hopeful Anson Knowles will not be Republican candidates for those respective offices in the 2022 cycle.
Powell, a Tuscaloosa businessman, was thought to be a threat for the party's nod against State Sen. Gerald Allen (R-Tuscaloosa) and is no longer on the Republican ballot.
Powell was reportedly removed for a $500 contribution to Tuscaloosa Mayor Walt Maddox, who ran as the Democratic Party's gubernatorial nominee in 2018.
Powell took to Facebook to voice his disappointment.
Powell told the Tuscaloosa Thread he will appear on the "Steve & DC Show" on Tuscaloosa's 95.3 Monday morning "to discuss the decision and possible next steps."
Rhea, formerly the dean of enrollment at Gadsden State Community College, has not spoken out about the candidate committee's decision but did acknowledge the initial challenge on Facebook.
Knowles, formerly the chairman of the Madison County Libertarian Party, was running to fill the House seat currently occupied by State Rep. Mike Ball (R-Madison). Ball is not seeking reelection.
One candidate who staved off a ballot challenge was embattled PSC Place 1 hopeful Johnny Hammock, who also serves as the mayor of Tallassee.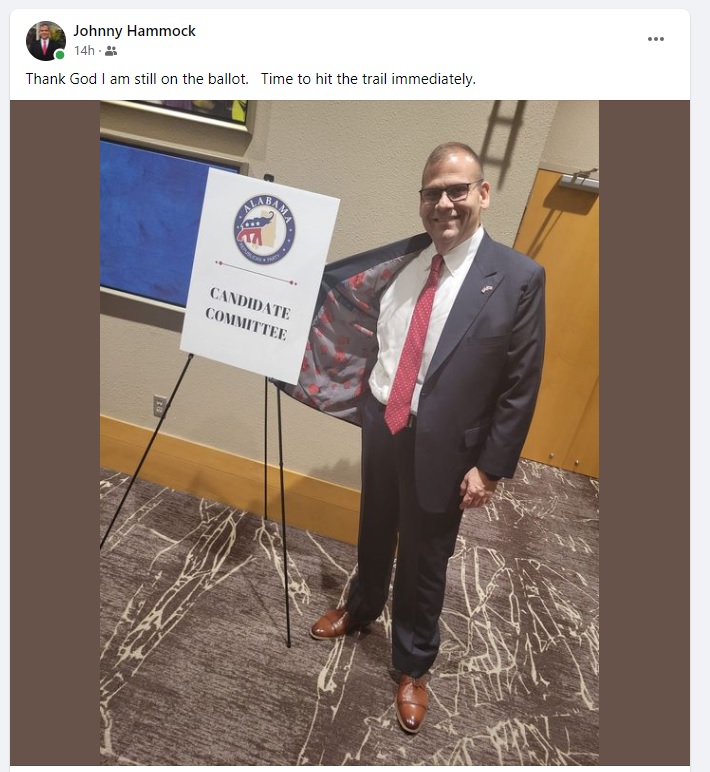 Hammock was arrested earlier this year on domestic violence charges in Orange Beach.
@Jeff_Poor is a graduate of Auburn University and the University of South Alabama, the editor of Breitbart TV, a columnist for Mobile's Lagniappe Weekly, and host of Mobile's "The Jeff Poor Show" from 9 a.m.-12 p.m. on FM Talk 106.5.
Don't miss out!  Subscribe today to have Alabama's leading headlines delivered to your inbox.