Key figures from Alabama's government and university systems joined to announced the new GuideSafe platform that bills itself as the key for students to safely return to college campuses amid the ongoing coronavirus pandemic.
The GuideSafe platform will help the state fulfill its promise to test every single college student before they return to campus, and the platform will provide a space for ongoing health monitoring throughout the semester.
The unveiling took place over videoconference, where State Health Officer Dr. Scott Harris, University of Alabama System Chancellor Finis "Fess" St. John and other key players detailed the importance of GuideSafe to the upcoming semester.
GuideSafe was developed by the University of Alabama at Birmingham (UAB) in conjunction with the Alabama Department of Public Health (ADPH) and tech company MotionMobs. It will be provided to any educational institution in the state that wishes to use it.

Governor Kay Ivey apportioned some of Alabama's CARES Act funds for the development of GuideSafe and the universal free testing for college students.
St. John on Monday praised Ivey's "decisive action to provide funding" for the testing initiative and other campus reopening measures.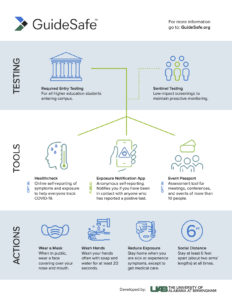 GuideSafe will be accessible via app on smartphones and tablets and via web browser on any computer. Students will be invited to join the platform in the coming weeks.
One of the key features of the GuideSafe app is that it will track the location of students via smartphone and then inform them if they have come into contact with someone who has tested positive for the coronavirus.
"This new app – using Google- and Apple-led technology and created by UAB faculty, staff and MotionMobs for the people of Alabama – is a necessary tool in our effort to return to college campuses safely this fall," said UAB President Ray Watts.
The app also allows students and faculty to report symptoms as they experience them, and get directed to a nearby testing site if necessary.
"The combination of these tools enables every participating college, university and K-12 school to engage faculty, students and staff regarding on-going monitoring of symptoms, exposure and risks of acquiring COVID-19," said Sue Feldman, professor and director of graduate programs in health informatics at UAB.
A general factsheet on GuideSafe is available here.
Watch:
Henry Thornton is a staff writer for Yellowhammer News. You can contact him by email: henry@new-yhn.local or on Twitter @HenryThornton95
Don't miss out!  Subscribe today to have Alabama's leading headlines delivered to your inbox.