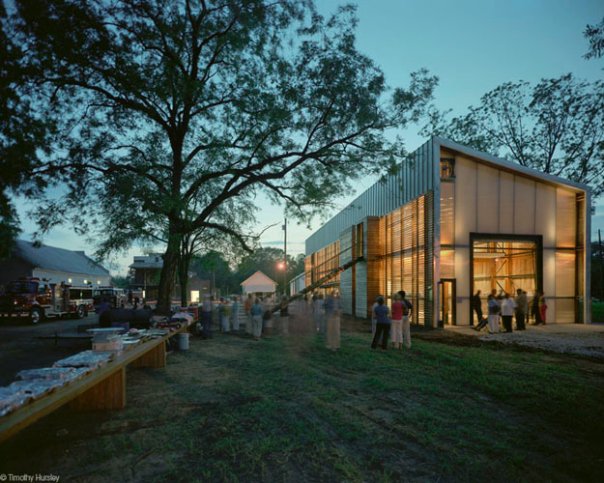 Once the epitome of the crushing poverty so characteristic of the rural south, this town in Hale County has since become a hotbed for design and innovation. According to Architecture Design Magazine, students in Auburn University's architecture program, Rural Studio, have been transforming the small town of Newbern into an architectural haven since 1993.
The students have been building and designing structures that not only improve the lives of residents, but add a modern edge to a town filled with mobile homes and antebellum houses. The students have produced a shimmering polycarbonate firehouse, constructed a town hall out of cypress timbers, and renovated an unoccupied bank into a public library. Newbern's former librarian, Alfreda Howard, says that visitors "marvel at the creativity inside."
The Rural Studio program was the brain child of Samuel Mockbee, a Mississippi-born architect who set out with a goal of rallying students to build for the poor. Affectionately known as "Sambo," Mockbee set out to create houses for lower-income families in the community. However, these houses were not just normal houses. Mockbee and his students used all kinds of materials from carpet tiles to tires to construct their contemporary housing.
The lack of building-code enforcement in Hale County allows students to experiment and test the limits of their creativity. They work in teams to create drawings and physical mock-ups of their designs, which are then rigorously tested by faculty and architecture critics. "You have to show that you deserve to build," says Xavier Vendrell, an architect from Barcelona who joined the faculty in 2013.
Andrew Freear has carried on Mockbee's legacy since his death in 2001. When the community requested that the program's focus shift toward public buildings, Freear did just that. Students now design everything from schools, to senior centers, to animal shelters. "We tend to be suckers for scrappy underdogs," Freear  explained.
One of the biggest triumphs of the program is the renovation of the 600-acre Perry Lakes Park. Once closed for decades, the students have turned the park into a must-see attraction. Throughout the park, students constructed an elegant bridge, a pavilion for events a performances, and a perch made from the armature of an old fire tower.
Along with the program's architectural ambitions, Rural Studio hopes to redevelop the community's local agriculture. The area has become barren in terms of produce, and students believe that fresh fruits and vegetables would benefit everyone in Newbern.
The students and the program remain a central piece in the culture of Hale County. Unlike many architects who take on a project from afar, Rural Studio has invested into the community from day one. "We don't fly in and fly out," Freear says. "We've dug ourselves in here, and we live surrounded by our projects."
Don't miss out!  Subscribe today to have Alabama's leading headlines delivered to your inbox.