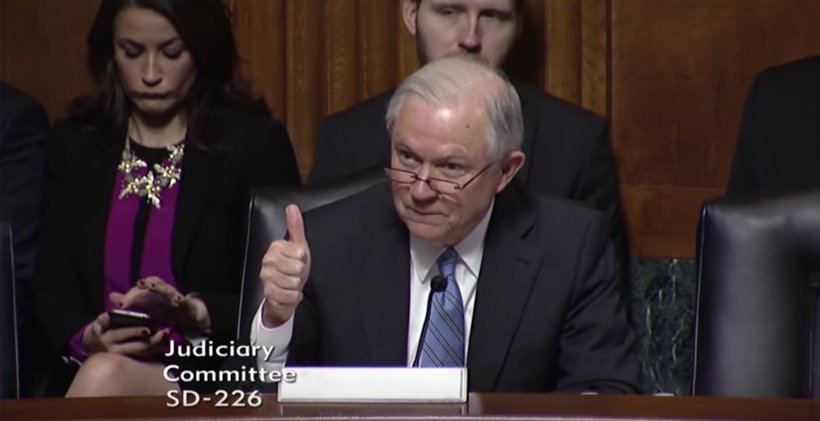 U.S. Attorney General Jeff Sessions is following through on a promise to strengthen law enforcement against gangs across the United States.
On Thursday, U.S. Immigration and Customs Enforcement (ICE) and Homeland Security Investigations (HSI) announced that over 1,000 with connections to gangs have been detained.
Of 1,378 total arrested, 1,095 were confirmed as gang members and affiliates – including 137 affiliated with the Bloods, 118 with the Sureños, 104 with MS-13, and 104 with the Crips.
The announcement comes after an April 11th address given by Sessions at the U.S.-Mexico border, in which he vowed to weaken violent gangs and cartels.
"When we talk about MS-13 and the cartels, what do we mean? We mean international criminal organizations that turn cities and suburbs into warzones, that rape and kill innocent civilians, and who profit by smuggling poison and other human beings across our borders," Sessions said. "It is here on this very sliver of land—on this border—that we take our stand. It is a direct threat to our legal system, peace and prosperity."
ICE Acting Director Thomas Homan praised the swift action taken to lessen the grip of gangs, emphasizing that cooperation with local law enforcement is key to their success.
"Gangs threaten the safety of our communities, not just in major metropolitan areas but in our suburbs and rural areas, too," said Homan. "Gang-related violence and criminal activity present an ongoing challenge for law enforcement everywhere. Our efforts to dismantle gangs are much more effective in areas where partnership with local law enforcement is strongest."
In January, Birmingham "symbolically" passed a resolution naming the city as a Sanctuary City. At the time, Mayor William Bell stated that the city would not work to help federal agents enforce immigration law.