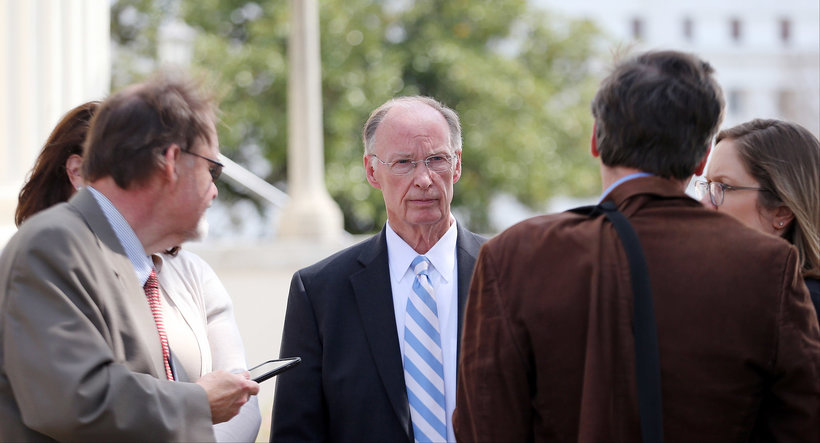 So how did Gov. Robert Bentley (R-Ala.) try to pass off his involvement with Rebekah Mason to members of his staff? He told them that she was like a daughter to him, according to the House Judiciary Committee's report on the matter.
According to the report, "One day in late 2013, Governor Bentley told his Executive Assistant, Wanda Kelly, that Mason was coming to his office and that he was going to "lock the door" because he did not want Chief of Staff David Perry to bother them. Kelly responded that she did not think that was a good idea and that there were other ways to keep Perry out of the office. Governor Bentley shut the door and locked it."
This reaction by Kelly apparently did not sit well with Bentley. The next quote has to do with a conversation he had with his scheduler, Linda Adams. This is what he told her.
"Days later, Governor Bentley called Linda Adams at home on a Saturday morning and said he was going to "fire Wanda." He referenced Mason, saying that Kelly did not understand that Mason was "like a daughter" to him. Adams pleaded with him and suggested that he instead move Kelly, whose desk was in the anteroom outside his office, to a desk in the larger reception area off the main hallway. Governor Bentley relented and had Kelly moved. Soon thereafter, Governor Bentley instructed Ray Lewis to address Kelly, Adams, and another woman in his office suite, Julie Lindsey, about what he described as their gossiping."
RELATED: Bentley impeachment report released
Bentley also reportedly threatened then First Lady Dianne Bentley's assistant, Heather Hannah, after she learned of the affair. This is one of the exchanges he had with her.
"The second Bentley confrontation of Hannah occurred shortly thereafter when she came face-to-face with Governor Bentley in the parking lot of the Mansion. Then, Governor Bentley confronted her about his suspicion that she had bugged his office to listen to conversations between him and Mason. Hannah relates that Governor Bentley warned her to "watch herself," that she "did not know what she was getting into," and that because he was the governor, people "bow to his throne.""
According to the report, that confrontation occurred after he had told her that she would "never work in the State of Alabama again" if she told anyone about the affair.
Don't miss out!  Subscribe today to have Alabama's leading headlines delivered to your inbox.