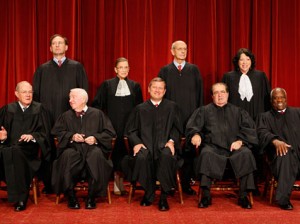 WASHINGTON – In a 5-4 decision on Tuesday, the Supreme Court ruled Section 4 of the 1965 Voting Rights Act unconstitutional in much-anticipated decision on the Shelby County v. Holder case.
Chief Justice John Roberts wrote that the formula in Section 4 "is unconstitutional in light of current conditions" and called on Congress to revise the formula based on that.
The court did not rule on Section 5, the pre-clearance provision of the Voting Rights Act, but without Section 4 defining what areas are held to Section 5, Section 5 is inoperable.
One practical implication of the Court's decision is that states may no longer be forced to maintain their current number majority-minority districts. Alabama's Seventh Congressional District, for instance, is comprised of roughly 63% minorities. It is highly unlikely that that would change, but similar districts throughout states previously subject to pre-clearance by the Justice Department could see changes to the demographic makeup of their current majority-minority districts in the years ahead.
"The Alabama of today is vastly different than the one of a half century ago, and the time for us to be freed from the burden of federal oversight is long overdue," Alabama House Speaker Mike Hubbard said in reaction to the Court's ruling. "Today's ruling clearly states that our constitutional rights as Alabamians take precedence over the wants and whims of liberal Justice Department bureaucrats in Washington, D.C. Starting today, Alabama will be able determine its own destiny when it comes to campaigns, elections and voting procedures in our state."
Alabama Secretary of State Beth Chapman, Alabama's chief elections officer, expressed her support of the Court's decision.
"We are not the same state we were decades ago and I am glad that the majority of the Supreme Court recognizes that fact," Chapman said. "Alabama has made great progress in our elections process."
She also pointed out that the provision of the Voting Rights Act by which voter discrimination can be prosecuted still stands.
"If there is a time or circumstance where a voter feels there has been any discrimination regarding the elections process, then Section 2 of the Voting Rights Act will provide a way for that case to be heard as it should," Chapman said.
Governor Robert Bentley agreed with Chapman that discrimination should not be tolerated, and said the Supreme Court recognized the progress states like Alabama have made in that regard over the last half century. "Alabama has made tremendous progress over the past 50 years, and this decision by the U.S. Supreme Court recognizes that progress," Bentley said. "We will not tolerate discrimination in Alabama."
State Senator Cam Ward of Shelby County told Yellowhammer, "It's absurd to use the same formula, procedures and guidelines that were used in 1966. Things have changed. We've elected minorities all across the board in Shelby County. The Supreme Court made the right decision."
Here is a map of all states covered by the Voting Rights Act:
The SCOTUS has rightly recognized that Alabama could not be treated unequally based on things that happened decades ago.

— Luther Strange (@lutherstrange) June 25, 2013
---
What else is going on?
1. Mike Rogers to Obama: Get serious about border security
2. Mo Brooks: fire federal employees who refuse to testify before congress
3. 15 Republican senators join Democrats to advance immigration bill (Sessions & Shelby vote "nay")
4. Alabama braces for Obama climate change announcement
5. Sessions continues fighting on eve of 1,200-page immigration amendment vote