Dr. George Inge got his first look at a German three-barrel combination rifle-shotgun as a 12-year-old during an annual family deer drive in Clark County.
His cousin harvested a buck by using the combo firearm, and for Inge, it was love at first sight. "The gun was so different than anything I had ever seen," he says. "I didn't know then it would become my favorite type of hunting gun."
Now, more than six decades later, the well-known fertility specialist with The Center for Reproductive Medicine in Mobile is importing vintage German combo firearms. "These fine, precision-made guns might otherwise be torn apart and melted down because of modern German gun restrictions," Inge says.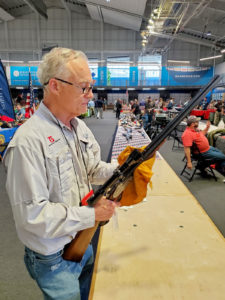 He and his partner in Germany, Tobi Nisse, sell the guns through their company T&G German Gun Imports. "The guns are of great interest to collectors and hunters in this country who appreciate the versatility of a light-weight firearm that can be used both as a shotgun and a rife," Inge says.
Last weekend, Inge featured the firearms at the Alabama Gun Collectors Spring gun show at the Finley Center at the Hoover Met. "Our group has three shows a year, and it's a great opportunity to show off the vintage German guns. Most of them were manufactured in the 1950s to 1990s."
The German firearms shown included three-barrel, break-action drillings and four-barrel, break-action vierlings as well as two-barrel combo and one-barrel firearms. The German word "drilling" means "triplet," and "vierling" means quadruplet, hence the names commonly used in Germany for those corresponding firearms.
The vintage German guns that weren't sold at the show and others currently available in the company's gun rooms are featured on the T&G German Gun Imports website. The firearms with rifle barrels use metric-caliber bullets, which the company also stocks and sells. Firearms with shotgun barrels generally are 16 gauge, a German favorite, Inge says.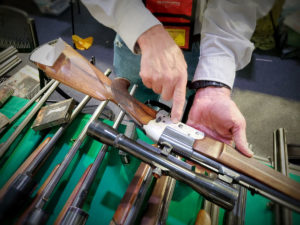 Inge's German partner is a gunsmith and dealer located in the Saurlands Region of central Germany. A fan of vintage combo firearms, Nisse spent 12 years in the German army and is a hunter.
The major impetus for the formation of their company came in in 2017 when Inge acquired a 1902 Hollenbeck drilling firearm from an aunt and needed it restored. During his search for the right gunsmith, Inge connected with Nisse, who was trying to find a way to sell vintage German firearms in the United States. They formed their company the very next year. "I asked my wife about it first, and she agreed we really needed to do it," Inge says.
The company's motto is "Save the fine guns." That's because Germany's gun laws have gotten more restrictive, and without a permit, firearms may be confiscated. "The widow of a hunter, for example, has only so long to sell her husband's guns before she legally must turn the gun over to the police to be destroyed," Inge says. "Young German's look down on post-WWII made firearms, and there are plenty of modern firearms being manufactured, so the vintage guns can be hard to sell there."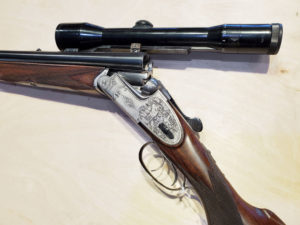 Inge bought his first drilling during a three-year military stint in Heidelberg following earning his medical degree via an Army scholarship. Inge often hunted in Germany with the firearm, which he still owns and uses to this day. "It has so many uses for hunting game animals, and makes a great varmit gun as well," Inge says.
For more information on vintage German guns, visit here.
The Alabama Gun Collectors Summer gun show is slated for July 16-17 at the Finley Center at the Hoover Met. For more information, visit here.
Don't miss out!  Subscribe today to have Alabama's leading headlines delivered to your inbox.