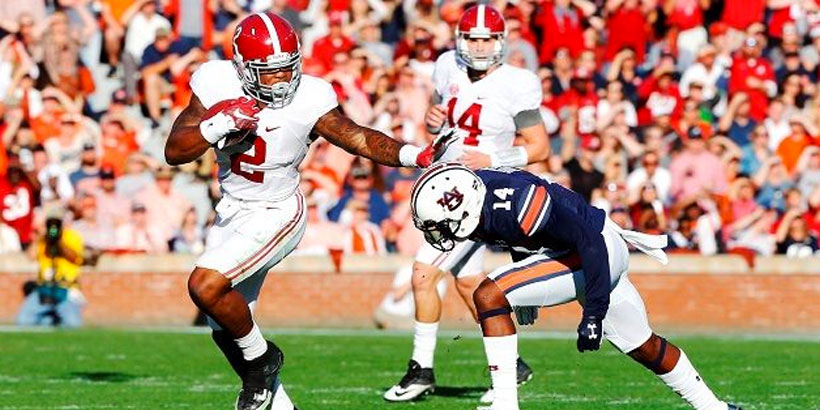 The debate has continued about whether Auburn should move to the SEC East and what conference rivalries should be preserved going forward. While the future remains uncertain, it is clear that the Crimson Tide and the Tigers have a history of success against other SEC foes.
Alabama has a lead over every single team in the SEC. Here are the actual record numbers for each:
Alabama leads Arkansas 20-7
Alabama leads Auburn 45-35-1
Alabama leads LSU 51-25-5
Alabama leads Ole Miss 52-10-2
Alabama leads Mississippi State 81-17-3
*Alabama leads Texas A&M 7-2
Alabama leads Florida 26-14
Alabama leads Georgia 38-25-4
Alabama leads Kentucky 37-2-1
*Alabama leads Missouri 3-2
Alabama leads South Carolina 12-3
Alabama leads Tennessee 54-37-8
Alabama leads Vanderbilt 61-18-4
Keep in mind that some of the opponents from the SEC East don't currently play Alabama and Auburn every year and that several of the teams are newer members of the league (Texas A&M, Missouri, Arkansas and South Carolina). That is why the total number of games played varies so greatly from team to team.
Auburn leads in seven SEC series, trails in four and is tied in two. Here are the numbers:
Auburn trails Alabama 35-45-1
Auburn leads Arkansas 14-11-1
Auburn trails LSU 22-28-1
Auburn leads Ole Miss 30-11
Auburn leads Mississippi State 59-28-3
*Auburn trails Texas A&M 2-5
Auburn leads Florida 43-38-2
Auburn trails Georgia 55-57-8
Auburn leads Kentucky 26-6-1
*Auburn is tied with Missouri 1-1
Auburn leads South Carolina 10-1-1
Auburn leads Tennessee 28-21-3
Auburn is tied with Vanderbilt 21-21-1
It is noteworthy that while Auburn's rivalry with Georgia is the most played series in the SEC, it is only separated by two games. Collectively, the two teams have combined records of 753-390 against all other SEC teams (excluding the games against each other). That's a 65.88 winning percentage against all other competitors.
*Some of the games Alabama and Auburn played against Missouri and Texas A&M were prior to those teams joining the SEC.
Don't miss out!  Subscribe today to have Alabama's leading headlines delivered to your inbox.