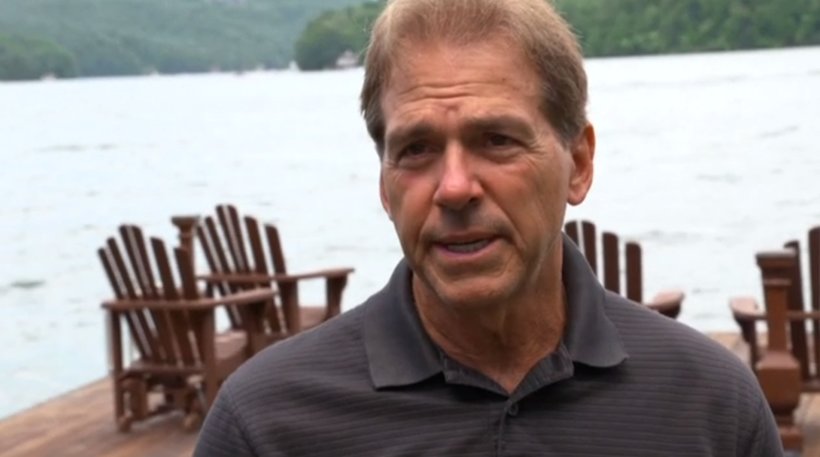 Bob Stoops resigned as head football coach at the University of Oklahoma Wednesday after 18 seasons at the school. The 56-year-old coach was one of five (now there are four) active head college football coaches to have won a national championship. One of the other members of that exclusive group is Nick Saban, who reflected on the tenure of his friend.
"Bob is a great friend and one of the best coaches in the country during his time at Oklahoma," Saban said in a press release. "I have had the pleasure of knowing him and his family for over 40 years. I have always had so much respect for Bob because of his professionalism and his integrity. The quality of teams he has been able to field on a consistent basis is second to none. We wish him well in whatever he chooses to do in the future."
Saban met with a group of reporters on Thursday while attending a golf tournament for his Nick's Kids charity and opened up about his own future retirement.
"As long as I feel good, I love doing it," Saban was quoted by TideSports.com as saying. "I've said this before. I've been a part of a team since I was 9 years old, and it scares me to death to figure what it's going to be like when I'm not a part of a team. As long as I feel healthy and I can do it, we certainly have every intention of trying to do it. If I felt like I couldn't do it to the standard that I want to do it then I think that would be time not to do it. But I certainly don't feel like that's any time soon."
Saban is 65, which is nine years older than Stoops. This will be his 11th season at Alabama. As evidenced by his team coming up just short to Clemson in the national championship game in January, there have been no signs of his trademarked "process" slowing down.
Stoops and Saban have met twice as head coaches. The first was when Saban was at LSU; the two competed for the 2003-04 national title game. Saban won that one 21-14, and it became the first of now five total national championships for him. The two met again in the 2013-14 Sugar Bowl. This one was a 45-31 victory for Oklahoma.
Stoops finishes his Oklahoma career having never lost to Alabama or Auburn. His team beat Alabama, coached by Dennis Franchione, 37-27 in a 2002 meeting in Oklahoma. In a return trip to Tuscaloosa the next year, Oklahoma beat Alabama, then coached by Mike Shula, 20-13. Most recently, Stoops' team defeated Auburn in his only meeting with them by a score of 35-19 in the Sugar Bowl on January 2nd.
Don't miss out!  Subscribe today to have Alabama's leading headlines delivered to your inbox.