PREVIEW: Auburn vs. Clemson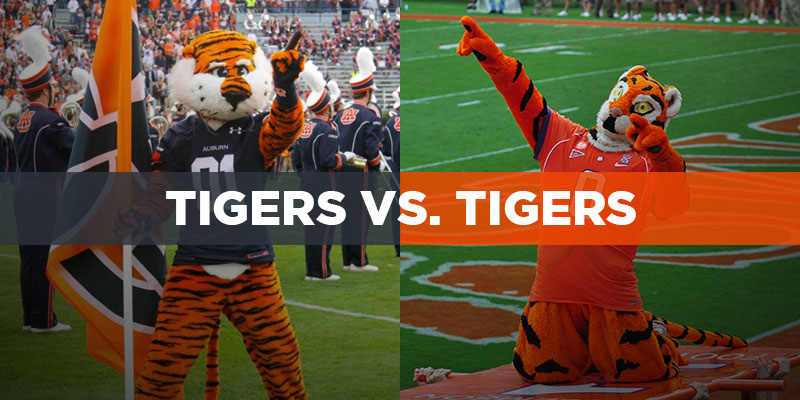 Here we are nearing the beginning of August. It's hot, we're sweating, and most of us are just counting down the days until college football begins. The start of the college football season will feature many exciting matchups, and one of those will most definitely be this year's installment of the Auburn vs. Clemson game. With just 40 days until another Tigers vs. Tigers matchup, both teams have a lot of preparing to do to get ready for the big game.
The two schools have a rich history together that cemented their rivalry that began in the early 1900s. According to Bleacher Report, after coaching football at Auburn (then known as Agricultural and Mechanical College of Alabama), Walter Merritt Riggs was hired on as a professor at Clemson University and brought the game of football with him. Riggs was given little money to start his new football program with, so he brought some of Auburn's old practice jerseys for the Clemson players to wear. The navy blue was so faded that it looked purple, and thus Clemson's iconic orange and purple colors were born.
Despite the schools' rich history, the Auburn-Clemson rivalry has been fairly quiet over the years. However, last year's matchup may have brought back some of that old-school competition. Despite offensive woes at quarterback, Auburn's defense was able to hold the soon-to-be national champions to a close game. Had someone been able to come down with one of Sean White's last second stabs at the end zone, last season could have looked much differently. However, Clemson was able to hold off Auburn's late push and won a close season opener 19-13.
The two Tigers will go back at it in Death Valley on September 9, and Auburn will look to capitalize on its confidence boost from last year. While it is way too early to make any calls, many think that Auburn may have the upper hand. Clemson lost many of its star players to the NFL after winning the National Championship. Quarterback Deshaun Watson, running back Wayne Gallman, and receiver Mike Williams are just some of the big names who will not be returning. If Auburn can find its rhythm at quarterback and continue to improve on defense, it might just have what it takes to take down the reigning national champions.
RELATED: Auburn Players Battle for Positions Going Into Fall Camp
With both teams heading into fall camp soon, it will be interesting to see how things shape up. Both teams need to find a good quarterback and replace some key starters from last year. While Clemson has shown that it is ready to play against the biggest teams in football, Auburn has shown that they have what it takes to take on their fellow tigers. The game is set to kick off at 7:00 pm Eastern Time in Death Valley on September 9.