Saturday morning, the Montgomery Advertiser's Brian Lyman made a tenuous argument that current U.S. Rep. Bradley Byrne (R-Fairhope) could be blamed for the election of Doug Jones to the U.S. Senate earlier this month.
According to a thread initiated by Politico's Daniel Strauss, the indefatigable Lyman postulates Byrne's lackluster effort in the 2010 Alabama gubernatorial race led to the election of Robert Bentley.
In an interview with the Decatur Daily, Bentley blamed current Gov. Kay Ivey in part for Jones' upset election win over Roy Moore.
"Changing the date of the election was the biggest factor in Doug Jones getting elected," Bentley said to the Daily's Mary Sell.
Strauss countered Bentley's claim by saying it was actually Bentley himself that made the Jones' victory possible.
There's an argument that Bentley, not Ivey, was the first domino to fall in the series that ended with Doug Jones getting elected. https://t.co/9fUfZ0rKfr

— Daniel Strauss (@DanielStrauss4) December 29, 2017
Lyman followed up by offering an Alabama politics-style version of six degrees of Kevin Bacon and tied what he called "a generally lackluster campaign" from Byrne as why Bentley ascended to the governorship and was able to set all of this in motion.
Best argument I've seen on this front: That then-gubernatorial front runner Bradley Byrne's decision in 2009 to attack the Alabama Education Association was the 1st link in the chain (because it contributed mightily to Bentley's unexpected victory). #ALSEN #alpolitics https://t.co/LxaSOZsCqd

— Brian Lyman (@lyman_brian) December 30, 2017
Short version: The AEA was the backbone of the state Democratic Party and a bete noire for the GOP. When Byrne went after them, they retaliated with spots (funded through a shadow group) that called him a trial lawyer & questioned whether he believed the inerrancy of the Bible.

— Brian Lyman (@lyman_brian) December 30, 2017
That, combined with a generally lackluster campaign from Byrne; blistering attacks between him and Tim James and an uncomplicated message of job creation from Bentley (during the Great Recession) got Bentley into the GOP runoff and then the party nomination.

— Brian Lyman (@lyman_brian) December 30, 2017
However, there was one factor that Lyman completely ignored in his synopsis of the forthcoming blockbuster movie "How we got here with Doug Jones in 2017."
In the 2014 book "My Conference Can Beat Your Conference: Why the SEC Still Rules College Football," sports talker and SEC Network personality Paul Finebaum credited himself for Bentley's successful 2010 bid for governor.
Finebaum recalled that having Bentley on his radio show as a guest during the 2010 election cycle to discuss how he was once the "personal dermatologist" to legendary former University of Alabama head football coach Paul "Bear" Bryant.
At the time, Finebaum's show was syndicated throughout the Southeast, but it had more of an Alabama focus and was still broadcasted out of Birmingham, as opposed to Charlotte, N.C. where it is now.
Finebaum, in his book, claimed that the Alabama football coach was more influential in the state than the governor. The radio host contended that Bentley's appearance on his show was what propelled Bentley to a win in that election.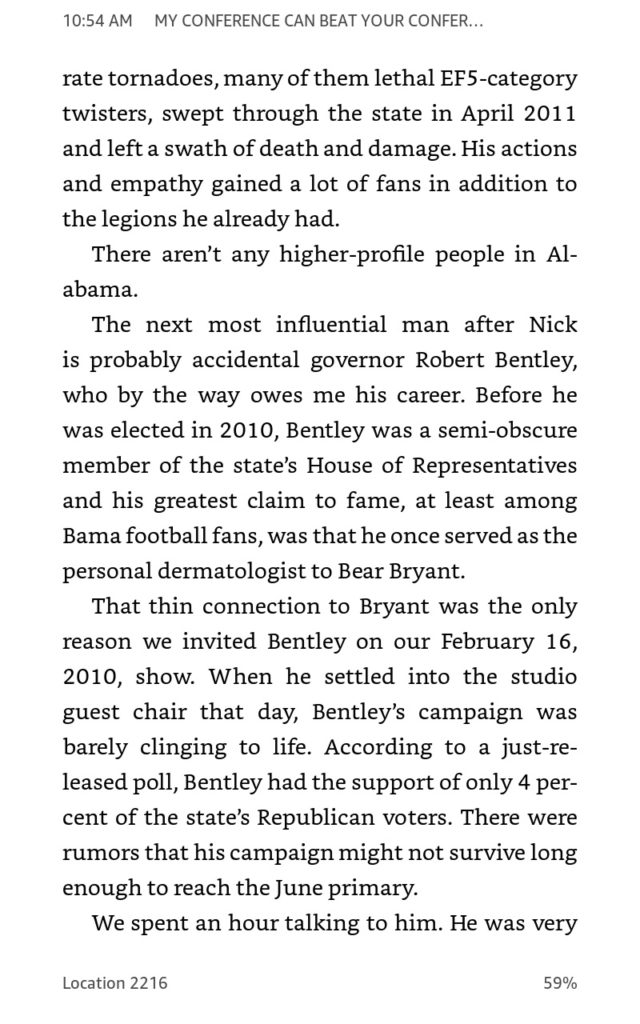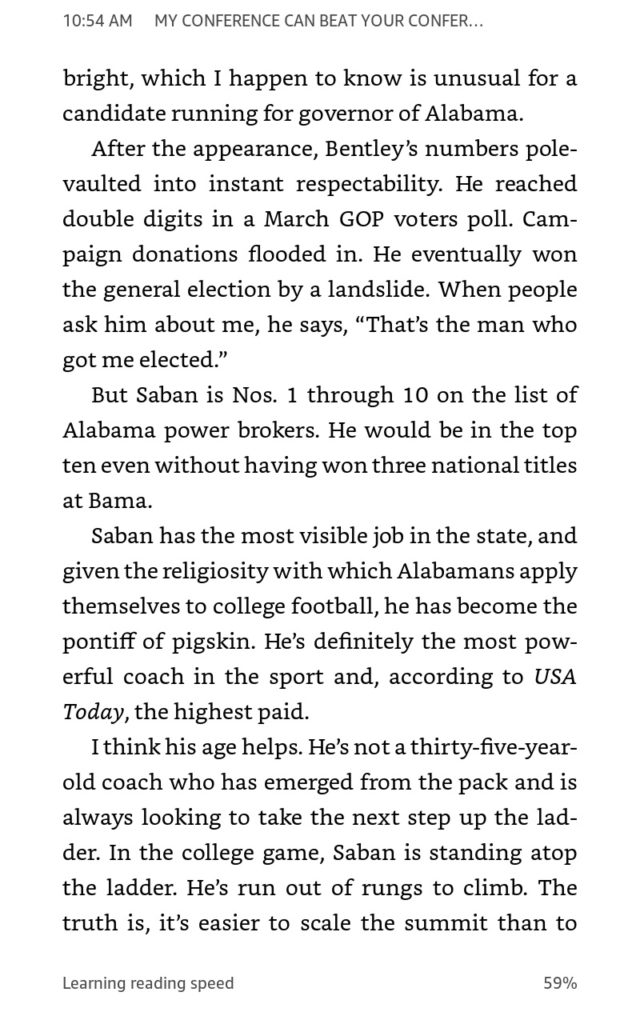 Finebaum wrote about Bentley, "When people ask him about me, he says, 'That's the man who got me elected.'"
If Finebaum (as he claimed) was indeed the reason Bentley was elected, and Lyman has an argument with his chaos theory of what led to Jones' win, then couldn't it be said Finebaum was responsible for now Sen.-elect Doug Jones?
Jeff Poor is a graduate of Auburn University and works as the editor of Breitbart TV. Follow Jeff on Twitter @jeff_poor.