Nick Saban's new collaboration with Mercedes-Benz will take you to the next Bama game in luxury

(Video Above: McSweeney Designs promotes the new Nick Saban Signature Series Sprinter Van)

BIRMINGHAM, Ala. — The Alabama Crimson Tide has a new accessory this year. It's not new cleats or helmet designs, but rather a $200,000 Mercedes-Benz luxury van.
University of Alabama head football coach Nick Saban has helped design and launch a limited edition vehicle that will have the Tide fans drooling. Saban worked in collaboration with the Mercedes-Benz of Birmingham dealership (of which he is a co-owner) as well as specialty manufacturer McSweeney Designs to create the Nick Saban Signature Series Mercedes-Benz Sprinter.
McSweeney Designs recently joined forces with Mercedes-Benz of Birmingham, and the two companies decided the perfect way to announce their new relationship was through the launch of the Nick Saban Signature Series Sprinter.
"We wanted it to be something that was truly exclusive," said Nicholas Saban, the coach's son who works as the AMG specialist at the Birmingham Mercedes dealership.
And exclusive it is. The Sprinter is a limited edition series, with only 15 being produced this year. The vehicle is also unique in its strategic design for the purpose of entertainment, especially for events like football tailgating. The van's features include TVs, high tech audio and video systems, hardwood flooring, a cooler and massage chairs, a mobile DirecTV satellite system and LED lighting, just to name a few amenities. Not to mention, Saban's signature is stitched into the headrests.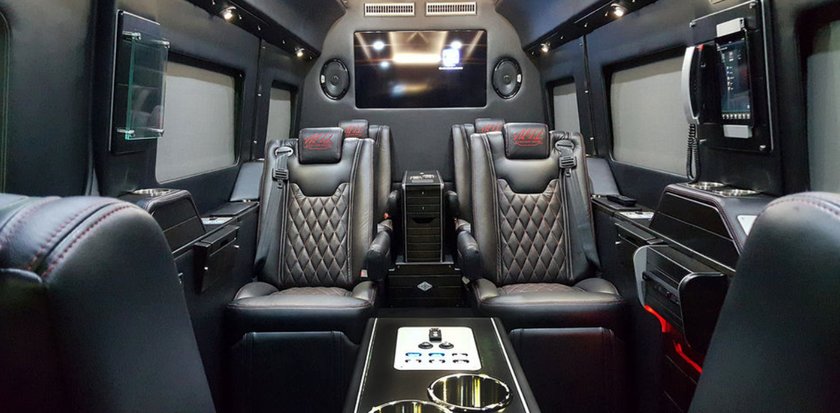 Saban didn't design the vehicle, but according to his son, Nicholas, Saban played an active role in the design process. Nicholas Saban said that his dad "reviewed color palettes, materials and features of the new Sprinter" to ensure that the limited edition van was a vehicle of excellence.
"There's a standard that we want to do things to," said Coach Saban. "After looking at what they produced, I'm extremely pleased and proud and happy."
---
https://twitter.com/caseycappa/status/634418932192030720