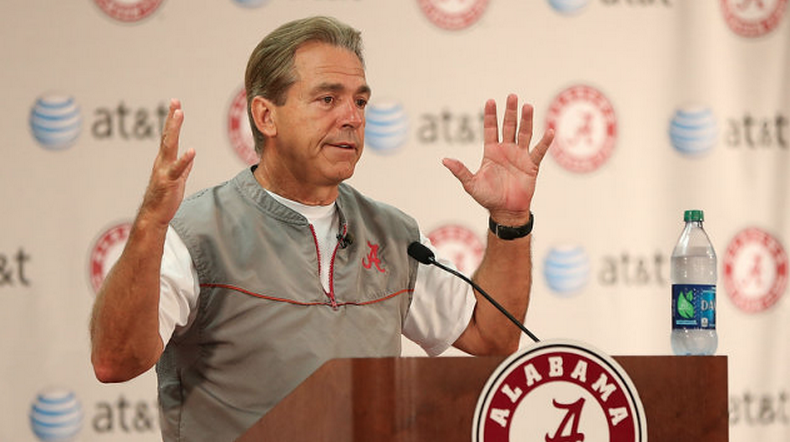 In an interview with CBS Sports, Alabama head football coach Nick Saban spoke very candidly about some of the recent rule changes in college football. Whether it's the new early signing period or a rule that restricts recruiting based on teams hiring coaches from the prospect's high school, Saban has clearly had it with modern NCAA legislation.
"I'm at a loss with the direction that we're moving in relative to the rules that we're making," Saban told CBS. I hate to speak in a negative way about colleagues or people that are responsible for passing some of this stuff. I don't see how it helps anything or anybody. Football is a developmental game. To keep trying to push a recruiting calendar, it's for the benefit of teams in the North because they want guys to visit in the summertime and all that."
It was what Saban said next that garnered attention and headlines.
"I know I'm crazy. You can tell everybody I'm crazy," the five-time national championship-winning coach said.
There are six major rule changes that the NCAA Division I advisory committee implemented last month, and several of them are driving the ire of coach Saban.
One change that Saban opposes is an early signing period. Heretofore, National Signing Day, which is the first Wednesday in February, has been the only date on which high school football players could sign with their chosen school. Starting this year, there will be a 72-hour signing period in December.
The NCAA also eliminated two-a-day practices. These are two separate practices in one day, which would take place during preseason camp. For many schools, this means that fall football practice will have to start earlier in order to compensate for not being able to double practices in one day. The stated purpose of this change was player safety.
A third rule changed the dates for high school players to make their official visits to colleges. In the past, prospects had to wait until the opening day of classes in their senior year to start making official visits. Now they will be able to begin taking official visits starting April 1st. The intention of this rule change is to provide more opportunities for prospects, but Saban is worried that it will hinder the ability of schools to properly observe the development of players.
There can now be 10 assistant coaches on a college football staff. It had previously been limited to nine. This is something that Saban has supported for a while.
A rule that has drawn criticism from a wide range of coaches (including both Saban and Auburn's Gus Malzahn, an unlikely alliance) is one that does not allow programs to hire certain individuals who are close to recruits for a two-year period before and after the player's enrollment at a college. The opposition to this rule is based on the fact that it could end up preventing talented high school coaches from breaking into the college game.
The other major rule change was a reduction of the amount of time that teams can hold summer camps. While some programs, such as Michigan under Jim Harbaugh, have pushed the limit in order to hold satellite camps, others hold large camps for young kids to develop and learn the game. Saban said Alabama holds a little kids camp with about 1,200 kids ages 7-11. He calls such camps a "legacy investment."
While it is uncertain what kind of impact these rule changes will have on the college football landscape, we have a pretty good idea that there will be further commentary on these matters by Nick Saban.
Don't miss out!  Subscribe today to have Alabama's leading headlines delivered to your inbox.