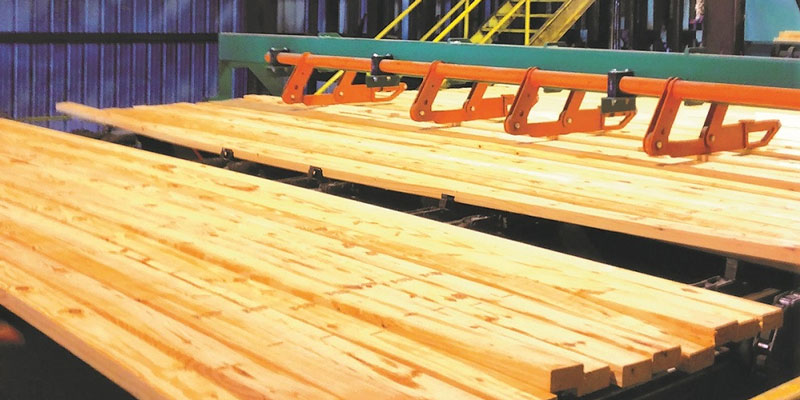 Gov. Kay Ivey announced last week that Rex Lumber Co. plans to build a state-of-the-art lumber manufacturing facility in Pike County, creating more than 110 jobs and providing a significant economic boost to the region's forest products industry.
Rex Lumber projects the total capital cost of the new sawmill to be $110 million, including startup and working capital. Annual production at the facility in unincorporated Pike County will be a minimum of 240 million board feet.
"Rex Lumber's new Alabama lumber manufacturing facility will not only bring high-quality jobs but will also create substantial economic benefits for the industry in the Pike County area," Ivey said.
"We're thrilled that the company selected Alabama for this project, and we're committed to helping this new operation succeed and thrive for years to come."
Rex Lumber currently operates three sawmills, two in the Florida Panhandle and one in Mississippi, producing a total of 575 million board feet annually. This will be Rex Lumber's third sawmill expansion in the last 17 years.
Site work at the new Pike County sawmill is scheduled to start March 15.
"Our fourth-generation family-owned business is looking forward to a long and prosperous future in Pike County and the great state of Alabama," said Caroline McRae Dauzat, one of the company's owners.
Economic ripples
Rex Lumber, founded in the 1920s by W.D. McRae, continues to be owned and operated by the Finley McRae family of Graceville, Florida. The company ranks among the 10 largest softwood lumber producers in the United States.
"This new lumber manufacturing operation will create quality employment opportunities, a significant new timber market and enhanced economic activity in the region," said Greg Canfield, secretary of the Alabama Department of Commerce.
"Rex Lumber is a proven operator with an excellent track record in the forest products industry, and will be a great addition to Alabama's business community."
Pike County was chosen over sites considered in several other Southern states for what was codenamed "Project Red Fox."
"The Pike County Commission is very pleased to join with Governor Kay Ivey, Rep. Alan Booth, Sen. Jimmy Holley and the Pike County Economic Development Corp. in welcoming Rex Lumber to Pike County," said Robin Sullivan, chairman of the County Commission. "We are pleased to be able to work to get business and industry in Pike County that provides quality, competitive-paying jobs in our area that create a better quality of life in our community.
"We look forward to a long working relationship with Rex Lumber as they continue to grow and prosper in Pike County," Sullivan added.
(By Jerry Underwood, courtesy of Made in Alabama)
Don't miss out!  Subscribe today to have Alabama's leading headlines delivered to your inbox.