The continued and aggressive growth of the Von Braun Center as an entertainment venue and a destination for conferences in downtown Huntsville is drawing the attention, and investment dollars, from commercial real estate developers.
Huntsville leaders have established a target of 1,300 downtown rooms that can be part of the community's efforts to bid for larger conferences and events at the VBC. Tourism officials say those organizers typically want 1,000 or more rooms in close proximity that can be reserved for an event.
"We've had a lot of interest in downtown Huntsville from hotel developers because we're one of the top business and tourist destinations in the southeast," said Huntsville Mayor Tommy Battle. "As the pandemic recedes and concerts, conventions and sporting events return, that will drive more hotel stays as visitors experience all we have to offer in downtown dining and entertainment."
The current inventory of rooms in downtown Huntsville is 665. The number of rooms under construction or announced is 600. The new hotels represent some of the largest chains in the nation – Marriott, Hilton, Hyatt and Hampton Inn & Suites.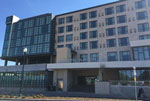 AC Hotel by Marriott: This 120-room hotel is located adjacent to the Von Braun Center and overlooks Big Spring Park. The hotel is the former site of the Huntsville Hilton Hotel that was razed to make room for this six-floor project in addition to the CityCenter project, which is currently under construction and includes commercial and residential space and an accompanying parking deck.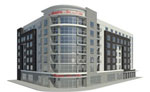 Hampton Inn & Suites is also adding hotel rooms in close proximity to the VBC at the corner of Monroe and Clinton Avenue, directly across from the Mars Music Hall and a new restaurant in the VBC, Rhythm on Monroe. The hotel will have 150 rooms on seven floors and will include a rooftop bar. Opening is scheduled later this year.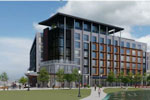 In addition to the AC Hotel, Marriott is adding to its presence near the VBC with its Autograph Collection. This six-floor hotel and parking deck will be located adjacent to the VBC and Big Spring Park. That garage is being reconfigured to accommodate the Autograph and will provide parking for the hotel as well as the Hampton Inn & Suites on the north side of the garage. The $40 million Autograph will feature 187 rooms, two full-service restaurants and a rooftop bar. This property will also include conference/banquet space to complement the VBC's offerings and is expected to be opened in 2022.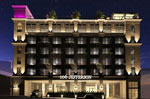 Closer to the Madison County Courthouse Square in downtown Huntsville is another hotel – Curio by Hilton. The developers leveled a dilapidated building one block from the square and three blocks from the VBC. The $30 million boutique hotel is located on Jefferson Street and will have 117 rooms, a restaurant and a rooftop bar. Curio is also expected to be open later this year.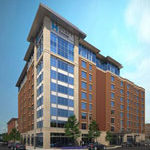 The tallest hotel project currently under development is the Hyatt House. This hotel is set for Jefferson Street and Holmes Avenue and will be located in a surface parking lot across from the federal courthouse which will be vacated when a new federal courthouse is built at a location just south of downtown. The nine-story Hyatt House will have 145 rooms, restaurant, meeting space and a rooftop bar.
"From a destination marketing perspective, we're excited to see new hotel properties currently under construction, as well as announced, in downtown Huntsville," said Judy Ryals, president and CEO of the Huntsville/Madison County Convention & Visitors Bureau.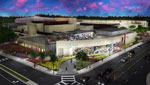 "The Von Braun Center's recent and planned expansions and upgrades combined with new and existing hotel rooms within walking distance of the facility will enable the Rocket City to host more, and larger conferences, meetings, trade shows and special events. With all the growth and additional lodging options soon to be available, our tagline: we've got space, is quite fitting."
Ray Garner is a contributing writer for Yellowhammer News.