This week's weather offered the perfect backdrop for a groundbreaking event on a long-awaited hotel project in downtown Huntsville.
Located neatly beside Big Spring Park and across the street from the Von Braun Center will soon stand an Autograph Collection hotel by Marriott.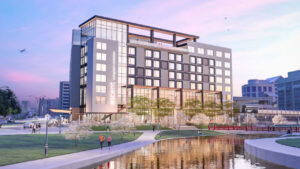 Georgia-based Ascent Hospitality and Huntsville-based JS Building Company teamed up on the development to bring something new to the downtown area.
"It's going to develop the community and the location," said John Tampa, founder and CEO of Ascent. 
The eight-story hotel will feature 215 guest rooms, a rooftop restaurant and bar that overlooks Big Spring Park — as well as its own Starbucks. Construction is projected to be completed in 2024.
The groundbreaking marked a high-end milestone in a concerted effort by leaders to accommodate Huntsville's growing conference and tourism industries. 
 "This is going to be a great addition to downtown," said City Administrator John Hamilton.
Brent Snyder, president of JS Building Company, said he is confident in a joint effort to execute on the vision.
"It takes a lot of coordination with the city and with the parks to pull it off with as little impact to the public as possible," he said. 
Don't miss out!  Subscribe today to have Alabama's leading headlines delivered to your inbox.