HUNTSVILLE — Marshall Space Flight Center officials on Tuesday played host to NASA administrator Bill Nelson, where the agency head met with team members and received briefings regarding ongoing efforts to return the United States to the moon.
Nelson, a former astronaut and U.S. Senator, as well as deputy administrator Pam Melroy, were provided with a firsthand look at the work of NASA's Huntsville workforce toward supporting the upcoming Artemis I mission.
NASA's Artemis program is a multi-series program consisting of ambitious space exploration missions which will return Americans to the lunar surface and eventually to Mars. Artemis I, which is projected for a mid-February launch date, will be an unmanned flight test for the Orion spacecraft and Space Launch System (SLS), which will be the most powerful rocket to ever exist.
During their first visits to the Marshall Space Flight Center in their current roles, officials showcased to Nelson and Melroy the center's core operations activities. This consisted of the surface and transit habitats environmental control and life support systems, as well as advanced manufacturing for large space structures facilities.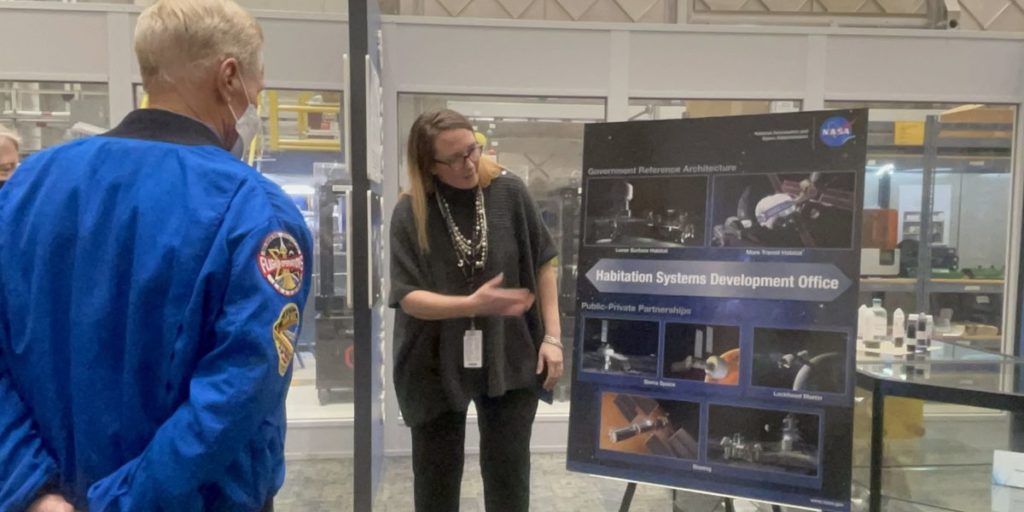 Marshall Space Flight Center director Jody Singer detailed the propulsion and research center's work toward advancing the nation's space-related priorities.
"I always believe that Marshall is so special in what we do. There are 10 centers that support NASA's mission, and I believe our mission is just as important. We really want to make sure that we deliver on the Artemis mission," said Singer, going on to outline the center's contributions to the program.
"So we've been talking about the future. We know the Space Launch System is a critical part but we also know that we have enabled the rest of the missions that takes us on to the moon and to Mars," she advised. "We have to be able to live, work, design and develop – and that's where our resources, our facilities and really our people come in handy to make sure that we can deliver on not only this mission but the next mission."
Singer added, "Our future is so bright, there's a lot of work to do. It's just unlimited and it's really fun to be able to, for me personally, to be able to walk around and see folks and see what we're working on – and to understand how much it pays to the future."
Next to the podium was Nelson, who expressed his excitement over being provided information from who he called "bright, very young, extraordinary engineers, scientists and mathematicians." He also noted the opportunity he was afforded to have a glimpse at the vital space equipment the team members had produced.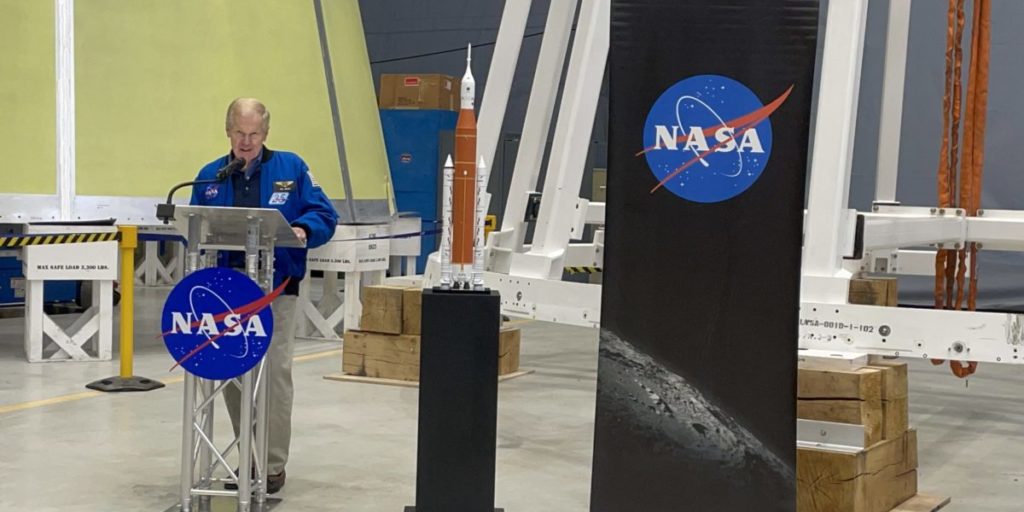 Pointing behind him to the Launch Vehicle Stage Adapter situated beside advanced welding machinery, Nelson advised that the adapter would "be on the flight when we do our first landing of the first woman and next man on the moon."
Speaking directly to Marshall Space Flight Center employees, Nelson proclaimed that they "have a very special, special part in our nation's history, and in our nation's space program."
The NASA administrator went on to take note of the role Huntsville played in sending Americans to the moon during the Apollo mission, which enabled the United States to defeat the Soviet Union during the Cold War's space race. He proclaimed that the victory "was in large part because of the Marshall Space Flight Center."
Speaking to the future of American space exploration, Nelson heaped praise upon the Rocket City for its unique position in paving the way for the nation's next journey into deep space.
"Now we're going back to the moon, but this time it's not the Apollo generation, it is the Artemis generation – and you have seen a lot of that generation here today at this briefing," declared Nelson.
Dylan Smith is a staff writer for Yellowhammer News. You can follow him on Twitter @DylanSmithAL