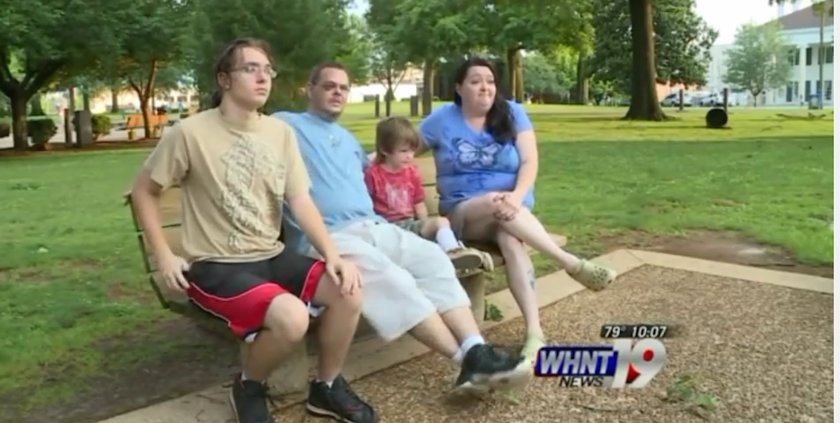 FLORENCE, Ala. — A white family was attacked by a mob of twenty to thirty black teens at a city-sponsored event in Florence earlier this month according to a report from Huntsville CBS affiliate WHNT. Local police, however, are hesitant to characterize the incident as a "hate crime."
Kevin Dawes and his fourteen-year-old son Brandon claim they were beaten around 8:30 PM when the "First Friday" event vendors had started to go home. Brandon was struck first from behind and the mob quickly swarmed his father who tried to protect him. Kevin proceeded to be tased and beaten while the group smashed in the windshield of the family car containing his wife, Juli, and his four-year-old son. The mob scattered at the sound of sirens from the Florence Police responding to Juli's 911 call.
During the investigation, Juli reported hearing many "slurs of race" from the teens as they beat her husband and son.
"They're screaming, you know, yeah, 'get that white!,' you know and Tasing him and laughing and taunting," Juli said. While the incident is not yet being classified as a hate crime, the Florence Police Department has not ruled out the possibility and is examining the situation "from all possible angles." Police Chief Ron Tyler said "There are no set of circumstances that would ever justify an unprovoked attack by a group of thugs, and we will not allow any group to hijack the family friendly First Fridays event."
As of now, there are no persons of interest in the case.
The seemingly unprovoked attack left Kevin with serious injuries and the rest of the family traumatized. Kevin suffered a broken facial bone, a black eye, and seven Taser burns. Brandon was taken aback by the way the situation escalated and seemed to come out of nowhere. "Randomly, they just him me in the back of the head," the fourteen-year-old said. "I didn't think nothing of it at first because, well, I thought maybe somebody tripped or something."
In light of the ever increasing confrontations between police and citizens nationwide, the FBI dispatched trainers to hold a two-day seminar in Florence on "appropriate decision making," after the incident was reported. According to the police department's Facebook page, "The class is designed to prepare first line supervisors for ethical and appropriate decision making in a changing world." The attack took place on the same day as the now infamous McKinney, Texas pool party police incident that received worldwide news coverage.
The Florence investigation to find the perpetrators is ongoing.
(H/T WHNT)