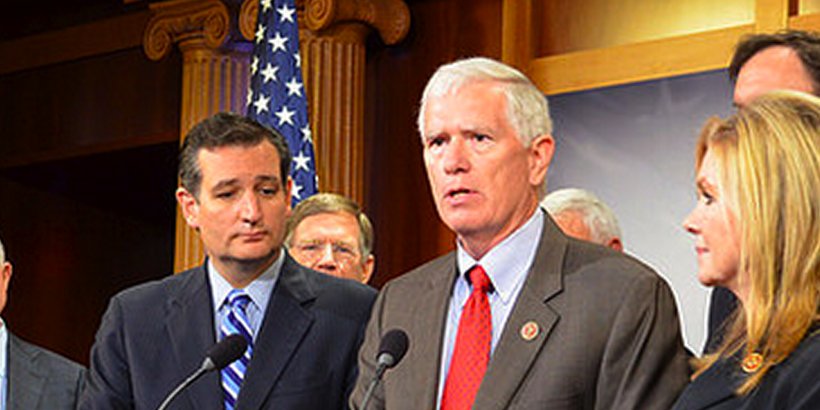 HUNTSVILLE, Ala. — Alabama Congressman Mo Brooks is serving as Senator Ted Cruz's Alabama campaign chair, but in addition to his support for Cruz, he is making it clear that there is one Republican candidate he could not endorse in good conscience.
In an interview with Alabama sports website and liberal political blog al.com, Brooks discussed in detail why he could not endorse billionaire real estate mogul Donald J. Trump. Perhaps most notably Brooks criticized Trump's adulterous past, although he stopped short of saying he would not vote for him in the General Election. Trump admits to having cheated on his first wife, Ivana, with actress Marla Mapes. He eventually left his wife for her. Trump went on to brag in his book "The Art of the Comeback" that he has slept with many of the "top women" in the world.
It's not just adultery, its serial adultery and there's a difference. If you make one mistake, it's one thing. But if you make dozens or hundreds of those kinds of deeds and then you boast about it in writing, that's another thing. It's not necessarily the sexual act itself, it's the honor. I want someone in the White House who is honorable. I believe honesty, integrity and honor are important attributes for president of the United States.

Then you've got the public policy issues – where Donald Trump is a notorious flip-flopper on a myriad of different issues. It is only a little bit of an exaggeration to say that Donald Trump has taken virtually every position – liberal, moderate, conservative or otherwise on every public policy issue that exists. Nobody knows what Donald Trump would do with any degree of certainty because Donald Trump is all over the map on every issue.

I'm quite confident that a lot of voters are enamored by the personality and entertainment nature of the Donald trump campaign, and I am firmly convinced that 12-18 months from now, when the reality of a Donald Trump vote sets in, a very large segment of Donald Trump voters will be very angry at what they're candidate is doing and [will] be very regretful of voting for Donald Trump.

I will not publicly support, or endorse with my reputation, someone who I know to have such huge character flaws and who is dishonest. I only endorse candidates who I believe are superior for a particular reason. So if Donald Trump is our nominee, I will sit back, watch and learn.

(…)

If the voters knew Donald Trump's background, what he intends to do as president, I am very confident you would have a mass exodus from Donald Trump's support base. And it might be his gutter-mouth tendencies. I don't want in the White House someone who in front of little children on national television uses the kind of profanity that Donald Trump uses.
Check out the full interview on al.com.
The most recent Alabama polls show Trump with a large lead in the Yellowhammer State heading into election day. To find your polling location, visit the Secretary of State's website.
(This article has been updated to clarify that Congressman Brooks stopped short of saying he would not support Trump in the General Election, if he wins the primary.)
Don't miss out!  Subscribe today to have Alabama's leading headlines delivered to your inbox.