Major Leaguer Who Knelt for Anthem Confronted by Waiter in Alabama Restaurant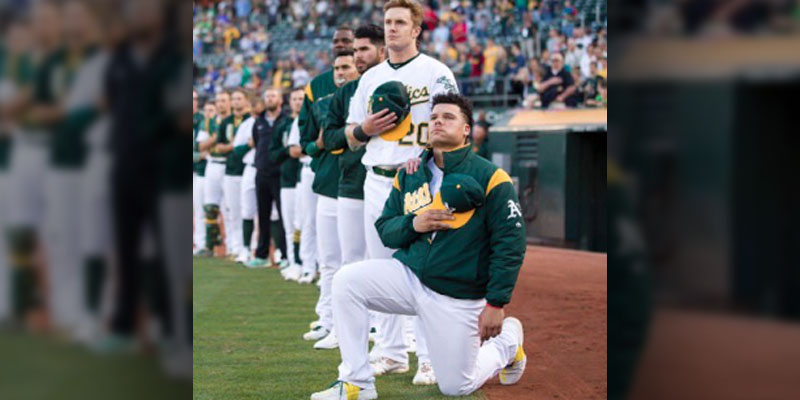 According to reports by TMZ Sports and the Washington Post today, Huntsville native Bruce Maxwell—a catcher for the Oakland A's—was out to eat not long ago with Huntsville city councilman Devyn Keith and another friend recently, when his waiter confronted him about kneeling for the National Anthem.
Maxwell's account of the story is that he ordered a beer with his meal and was asked to show his I.D. Upon doing so, he said the waiter the waiter recognized him as the only the catcher who TMZ said was the "only MLB player who took a knee this season."
Upon making this connection, the waiter reportedly confronted Maxwell about kneeling. TMZ quoted Councilman Keith's account of the story: "He said, 'You are that guy. You are the guy who took a knee,' " Keith said. "And then everything changed."
Maxwell added, "He goes, 'I voted for Trump, and I stand for everything he stands for.' And I was like, 'Oh, really?' And our councilman went and got their manager and had some words with him and took him off of our table and put us another person on our table. That's where I'm from."
Maxwell texted the Washington Post, who quoted him as saying "I'm really over that happening and it's BS."
Councilman Keith, a 27-year-old Democrat said the confrontation was "an embarrassment," but apparently the restaurant's management responded in a conciliatory fashion as both Keith and Maxwell promised not to reveal the establishment's name.
The next day, Maxwell knelt during the national anthem before the A's win and reiterated his decision to kneel during the Start Spangled Banner. As the Post reported, he stated: "My decision had been coming for a long time. The only way we can come together is by informing. … To single out NFL players for doing this isn't something we should be doing — I felt it should be a little more broad."
Maxwell has declared his unwavering commitment to resume his demonstration during the anthem next season, which his employer seems to support. The Washington Post published a brief statement from the A's supporting Maxwell, which read: "The Oakland A's pride ourselves on being inclusive. We respect and support all our players' constitutional rights and freedom of expression."
Maxwell was born on an American military base in Germany while his father was in the Army. He was a standout prep player at Huntsville's Sparkman High School (where he and Devyn Keith became friends), and he played college ball at Birmingham-Southern.