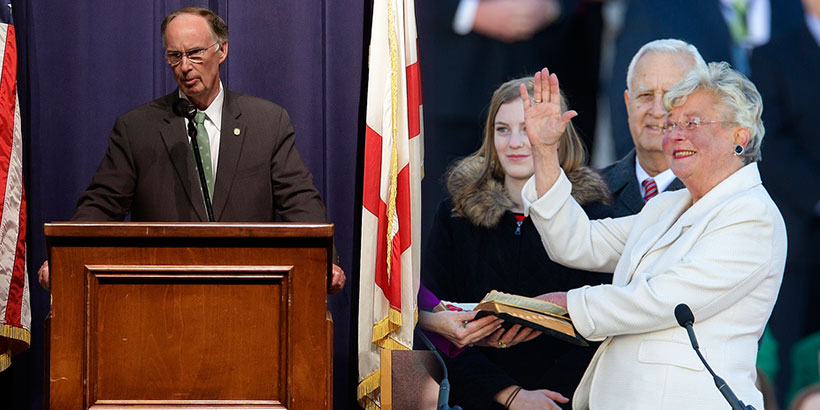 MONTGOMERY, Ala. — Alabama Lt. Gov. Kay Ivey and a close circle of advisers are mapping out a transition plan in case Gov. Robert Bentley is compelled to resign from office, according to multiple Yellowhammer sources. The planning began in earnest last summer in the wake of Dianne Bentley, the governor's wife of 50 years, filing for divorce.
After several months of relative quiet, the Lt. Governor's office is back in preparation mode after audio surfaced of Governor Bentley having a romantic conversation with his senior advisor, Rebekah Mason.
Yellowhammer was given exclusive access to the content of audio recordings captured by Mrs. Bentley in which Governor Bentley makes sexual advances on and recalls sexual encounters with Rebekah Mason, his former communications director turn senior advisor. Mrs. Mason's husband, Jon, also serves in the Bentley administration as Director of Serve Alabama, the Governor's Office of Faith-Based and Volunteer Service.
One of the recordings was captured while the Bentleys were visiting their beach house.
Mrs. Bentley, who had suspected the affair, went for a walk on the beach, but left her cell phone behind recording the audio of what took place in her absence.
During that time period, Governor Bentley can be heard making a phone call to "Rebekah" that includes sexual references to their time together.
"You know what, when I stand behind you, and I put my arms around you and I put my hands on your breasts, and I put my head (inaudible), and pull you real close, hey, I love that, too — putting my hands under your shirt," Governor Bentley can be heard saying.
"I love you. I love to talk to you," he continues. "Baby, let me tell you what we're going to have to start doing, we're going to have to start locking the door. If we are going to do what we did the other day, we are going to have to start locking the door."
Numerous sources told Yellowhammer last year that there was a widespread belief that the Bentley-Mason affair could go public and lead to the Governor having to step down.
"No one really knows what's going on across the street (in the Capitol), but it would be dereliction of duty if the Lt. Governor's office wasn't making sure they are prepared," one longtime Montgomery politico told Yellowhammer at the time. "The conversations I have been privy to have centered on filling out a staff and cabinet — continuity of government stuff. I'd assume some of the agency heads would stay in place, but other slots may need to be filled quickly."
One state legislator with knowledge of the Lt. Governor's operation said her current chief of staff Steve Pelham would likely continue in the same role in her administration.
"She's leaning heavily on Steve right now," the legislator said. "He's quarterbacking a lot of the preparation. It's being done quietly, but it's definitely happening."
Pelham has been a staple in Alabama politics for decades. His experience includes stints working for McCain-Palin 2008, Bush-Cheney 2004 and the National Advance Team for former U.S. House Speaker Newt Gingrich. He also managed each of Congressman Terry Everett's campaigns between 1992 and 2000 and was his congressional office's state director. Pelham has been in his current role with Lt. Gov. Ivey since she took office in 2011.
Another individual who insiders say would play a central role in Ivey's administration is Will Sellers, an attorney with powerhouse law firm Balch and Bingham. Sellers is a partner in the firm's Montgomery office and has been involved in politics for years advising state and local officeholders on campaign finance issues.
"He's always been close to (Lt. Gov. Ivey)," explained a longtime state lobbyist. "He administered the oath of office when she was sworn in. A lot of people down here believe he'd be running the show as an external adviser or on loan from Balch."
RELATED:
1. AUDIO: Listen in on Governor Bentley's romantic conversation with mistress
2. Alabama's former top cop: Bentley mistress was 'de facto Governor'
3. Bentley addresses affair allegations: 'I made a mistake'
Don't miss out!  Subscribe today to have Alabama's leading headlines delivered to your inbox.