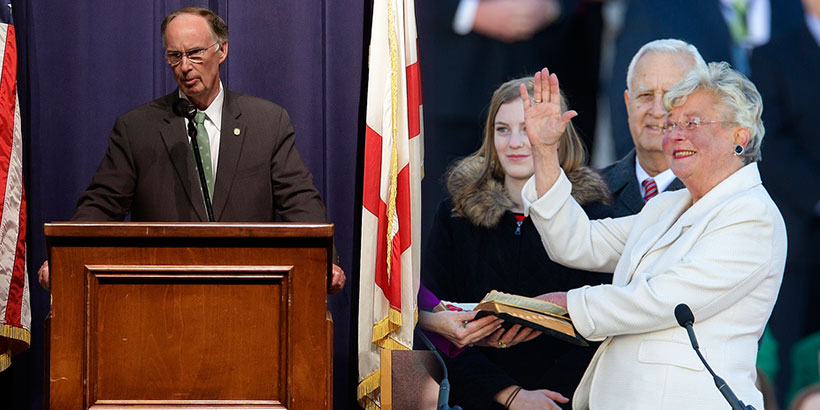 MONTGOMERY, Ala. — Alabama Lt. Gov. Kay Ivey and a close circle of advisers are mapping out a transition plan in case Gov. Robert Bentley is compelled to resign from office, according to multiple Yellowhammer sources.
The Bentley Administration, which was relatively devoid of controversy during the governor's first term in office, has suddenly found itself under siege on multiple fronts.
Gov. Bentley and the state legislature have butted heads in recent months as the governor's tax and budget proposals have failed to gain momentum. But recent personal issues are what have led other state leaders to at least consider the possibility of an escalation that culminates in the governor's resignation.
Dianne Bentley, the governor's wife of 50 years, on Friday filed for divorce. The couple has been separated since January, according to court documents.
"The Plaintiff states there is such a complete incompatibility of temperament that the parties can no longer live together," Mrs. Bentley's attorney wrote in the divorce filing. "There exists a conflict of personalities which destroys the legitimate aims of matrimony and all possibilities of reconciliation are futile. Plaintiff further avers that their marriage has suffered an irretrievable breakdown and that further attempts at reconciliation are impractical and not in the best interests of the parties."
Divorces have unfortunately become commonplace, and Gov. Bentley is not even the first sitting governor of Alabama to endure one while in office. But a couple divorcing after over a half-century of marriage is far less common. The vague reasoning laid out in Mrs. Bentley's filing has led to speculation about whether or not there is more to the story. A Bentley-appointed judge sealing the court records only further fueled to the speculation.
With that atmosphere of uncertainty in mind, State House insiders told Yellowhammer the Lt. Governor is simply doing her job by preparing for a seamless transition, should the need ever arise.
"No one really knows what's going on across the street (in the Capitol), but it would be dereliction of duty if the Lt. Governor's office wasn't making sure they are prepared," said one longtime Montgomery politico, one of numerous insiders who would only discuss the sensitive issue on condition of anonymity. "The conversations I have been privy to have centered on filling out a staff and cabinet — continuity of government stuff. I'd assume some of the agency heads would stay in place, but other slots may need to be filled quickly."
One state legislator with knowledge of the Lt. Governor's operation said her current chief of staff Steve Pelham would likely continue in the same role in her administration.
"She's leaning heavily on Steve right now," the legislator said. "He's quarterbacking a lot of the preparation. It's being done quietly, but it's definitely happening."
Pelham has been a staple in Alabama politics for decades. His experience includes stints working for McCain-Palin 2008, Bush-Cheney 2004 and the National Advance Team for former U.S. House Speaker Newt Gingrich. He also managed each of Congressman Terry Everett's campaigns between 1992 and 2000 and was his congressional office's state director. Pelham has been in his current role with Lt. Gov. Ivey since she took office in 2011.
Another individual who insiders say would play a central role in Ivey's administration is Will Sellers, an attorney with powerhouse law firm Balch and Bingham. Sellers is a partner in the firm's Montgomery office and has been involved in politics for years advising state and local officeholders on campaign finance issues.
"He's always been close to (Lt. Gov. Ivey)," explained a longtime state lobbyist. "He administered the oath of office when she was sworn in. A lot of people down here believe he'd be running the show as an external adviser or on loan from Balch."
The Lt. Governor's office declined to comment on the record for this story. Attempts to contact Mr. Sellers were unsuccessful.
It remains highly unlikely that Gov. Bentley will resign. Rumors posted on blogs and Twitter posts are a far cry from the kind of facts and evidence that compel powerful politicians to call it a career. But the way the Lt. Governor's team is reacting to the situation is an indication of just how quickly some on Goat Hill believe things could escalate.
---
Like this article? Hate it? Follow me on Twitter and let me know what you think.

— Cliff Sims (@Cliff_Sims) June 9, 2015
Don't miss out!  Subscribe today to have Alabama's leading headlines delivered to your inbox.