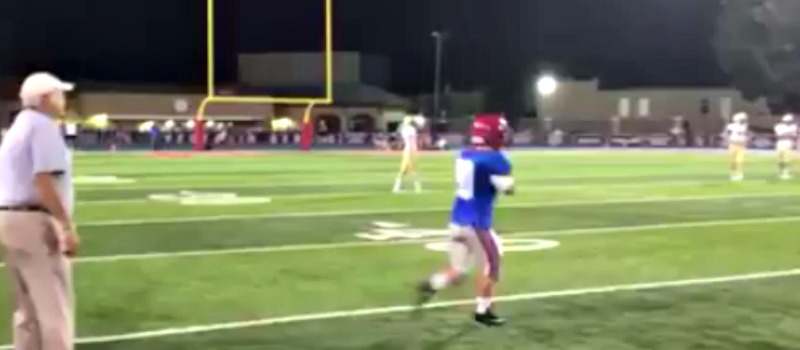 Late last night, Amy Hyde tweeted a video of her little brother scoring a touchdown for Vestavia Hills High School in Birmingham, but this was no ordinary touchdown celebration. Amy's brother, Jake Pratt, is an 18-year old senior with Down Syndrome and in Vestavia's 30-3 win over Briarwood Christian, Jake romped for a long touchdown run that has taken social media—and the country—by storm.
In fact, Jake's epic run will be on ESPN tonight at 9:00 pm and Amy's video has been re-Tweeted by ESPN anchor Scott Van Pelt and Fox Sports college football columnist Bruce Feldman among many others.
Amy chatted with Yellowhammer's Chris Simmons this afternoon and said,
We did not know about it before hand. My sister… sent me the video last night. I watched it 10 times in a row while crying my eyes out. Jake loves football and Vestavia Hills High School so much and when I talked to him he was on cloud nine. I felt like it needed to be shared. The guys on the team go out of their way to include him in everything. They pick him up and take him to hang out. Jake participates in all the workouts and practices. He also works out on his own at the YMCA. I think the coaches and team have seen how hard he works and gained complete respect for him. It's even more meaingful to know that the touchdown [happened] because they feel like he earned it.
Amy added, "He's also planning to apply to college this year. He is considering several special programs including Clemson Life. It's an amazing program!"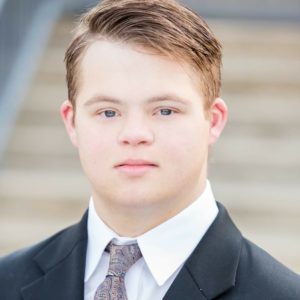 Last night, two schools came together to honor a young man who scored the touchdown of his life and now the whole country is celebrating with him.
If only we could maintain the perspective Jake Pratt inspired last night, the world would surely be a better place.
Special thanks to Amy Hyde, to everyone associated with Vestavia Hills and Briarwood Christian School's football programs, and huge kudos to the real hero, Jake Pratt. We see you Jake, and we hope it makes you happy to know that you've made millions of people smile! Keep scoring touchdowns, buddy! We're for you, heart and soul!
You can watch Jake's big TD run in the video below.
My brother, Jake, is 18 & a senior at Vestavia. He also happens to have Down Syndrome. Tonight 2 teams helped to make his dream come true! pic.twitter.com/uLoP3KH8KR

— Amy Hyde (@Amy_Lissa) August 26, 2017
Editor's Note: To stay up to date with real time scores of high school football games across Alabama, visit our homepage at YellowhammerNews.com and see the scores along the right side of the page, courtesy of ScoreStream.
Don't miss out!  Subscribe today to have Alabama's leading headlines delivered to your inbox.