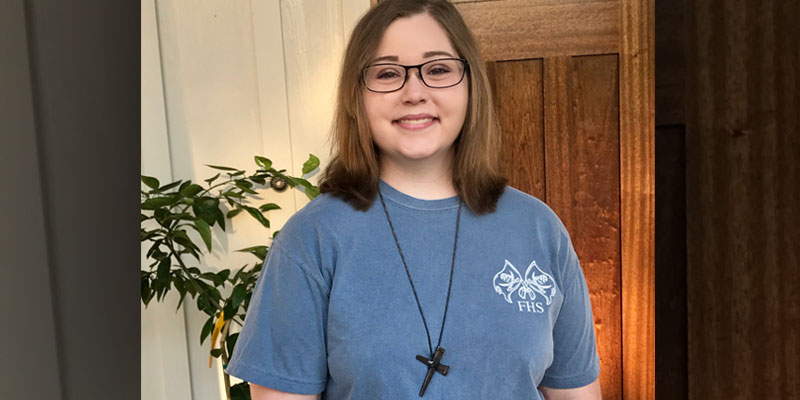 Walking the halls of Fair Hope High, Frances Grace Hirs looks like any other senior—a vibrant, happy young woman with a bright future ahead. Behind every person, however, is a story, and Frances Grace's story is one of courage, inspiration, and hope; a story of an incredibly brave girl who has fought for her life time and time again.
Frances Grace has battled acute lymphoblastic leukemia (ALL) since she was three when incapacitating back pain forced her parents to rush her across Alabama to Children's Hospital. It was there, back in 2003, that she was first diagnosed with the deadly blood cancer.
The ironic thing about 2003 is that it was the same year that an Alabama researcher began taking a closer look at a cancer drug for children that others said had no promise. Ten years later, his work would play a huge role in saving "Gracie's" life.
Not long after her diagnosis, Frances Grace's leukemia went into remission, but as a third grader in 2009, she felt a stabbing pain in her side after a ballet class. Doctors confirmed the Hirs' worst fear: the leukemia had returned. Soon thereafter the family found themselves in the middle of a harrowing episode in the hospital.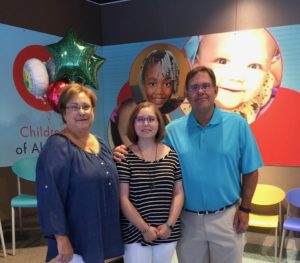 Gracie was on the cusp of going into shock, and in the moments that followed, doctors told her parents that her life was literally touch and go. Her mother, Debbie (a nurse), was focused on the work of some eight or nine harried medical staff when she said, "I noticed Frances Grace staring right through me, kind of looking past me, and I remember thinking that her countenance portrayed a look of peace in the middle of all of the activity that really took me by surprise. Doctors and nurses were scrambling everywhere, inserting needles and tubes into her body, trying to save her life, and I just remember that she looked remarkably calm."
Two years later, when the family was watching a touching movie, Frances Grace burst into tears. When Debbie asked her what was wrong, she said nothing, explaining that the video simply reminded her of that night at the hospital. "She said 'Mom, I wasn't looking at you. Jesus was standing right behind you, and he had a look on his face that assured me that everything was going to be just fine. That's why I was so calm.'"
Following that round of treatment, the cancer again went into remission, only to take root in Gracie's blood stream four years later, in 2013.
This time around, with treatment options limited, doctors determined that Frances Grace needed a bone marrow transplant to live. The problem was, this transplant was predicated on a variable no one could control: her leukemia had to be in remission before receiving the new bone marrow, and that leukemia was once again ravaging the cells of her body.
"Frances Grace had run out of possibilities," Debbie said. On that seemingly dead-end road is where a young lady with the spirit of a lion, and two parents with an immovable love for their daughter, were once again given the hope to which Frances Grace had come to rely on that night in 2009.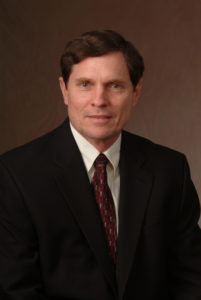 Their first wave of hope came in the form of a man they'd never met, the researcher who'd started developing a wonder drug the same year Frances Grace was first diagnosed. That man is Jack Secrist, Ph.D., the former head of Southern Research's Drug Discovery division, who's now retired. Dr. Secrist is the co-inventor of clofarabine, a therapy for children whose leukemia has returned after two types of treatment have failed.
To kick her leukemia into remission, Frances Grace received clofarabine that summer four years ago, and it worked. Debbie says without that medication; Frances Grace would have likely never been a candidate for the bone marrow transplant that changed her life. In other words, clofarabine was the turning point in this beautiful young lady's story.
The Hirs' second wave of hope came not long after that from another man they'd never met. Bryan Schneider of New Braunfels, Texas had registered as a bone marrow donor earlier that year, in hopes of saving his father in law who also suffered from leukemia. Unfortunately, the two men weren't a match and the disease claimed his father-in-law's life. Six months later, however, the registry alerted the Hirs' that Bryan's bone marrow was a match with Frances Grace. With an eager willingness to help that's seldom seen, Bryan donated his bone marrow to Frances Grace, and his act of extraordinary compassion is another epic chapter of her remarkable story.
Frances Grace is now four years removed from the transplant that she received in the first week of September, exactly four years ago. While the first 18 months were extremely difficult as her body adapted to the new bone marrow, the past two and a half years have brought Gracie and her parents a sense of normalcy, health, and immeasurable relief.
"To say that God's handprints were all over this transplant from Bryan, the treatment developed by Dr. Secrist, and Gracie's entire journey, is a huge understatement," Debbie said. Speaking of Bryan, she said,
"I have no doubt that God brought our two families together. Once complete strangers, Bryan and his wife are now part of our family, and they are the most kind, loving, and humble people you'd ever meet. Since we finally got to meet them in person last year, hardly a day has gone by that Bryan hasn't texted or called, just to check in and say hello. He's one of the most remarkably caring people we've ever met. Our families have grown so close, he just calls Allen and me 'Mom and Dad.'"
Connecting the dots to the groundbreaking drug that made Gracie's transplant from Bryan possible, the Hirs' also visited Southern Research after learning clofarabine had been developed right here in Alabama.
The work that led to its development had begun way back in the 1980s but was shelved because of scientific road blocks. The same year Grace got sick, however, Dr. Secrist saw promise in an option previous researchers had dismissed. He and John Montgomery, Ph.D., another key member of Southern Research's drug discovery team, formulated a plan. Their team created new compounds that would disrupt DNA function in cancer cells without the previous road blocks that had shelved the drug years earlier.
Thanks to their relentless pursuit of an effective treatment, clofarabine received FDA approval on Dec. 28, 2004, when it became the first new drug to treat childhood cancers in a decade. The drug, marketed in the U.S. by Sanofi Genzyme, carries the brand name Clolar.
The Hirs family was so inspired by Gracie's courage that they organized a golf tournament in Baldwin County to raise money for Children Hospital's and continued cancer research. Now in its 13th year, the tournament has raised $1.2 million.
"People need to know that it takes money to do these things," Gracie' father, Allen Hirs said. "It just takes a lot of people and a lot of effort."
That effort has never been in short supply in the life of Frances Grace, and thanks to an incredible family and two remarkable men, today she's flourishing. Just as she learned in that hospital room in 2009, things truly are just fine.
###
Editor's Note: Learn more about Gracie's story in the video below
Cancer drug links leukemia patient, scientist from Southern Research on Vimeo.
Don't miss out!  Subscribe today to have Alabama's leading headlines delivered to your inbox.