Key Endorsements Follow Senate Candidates into the Primary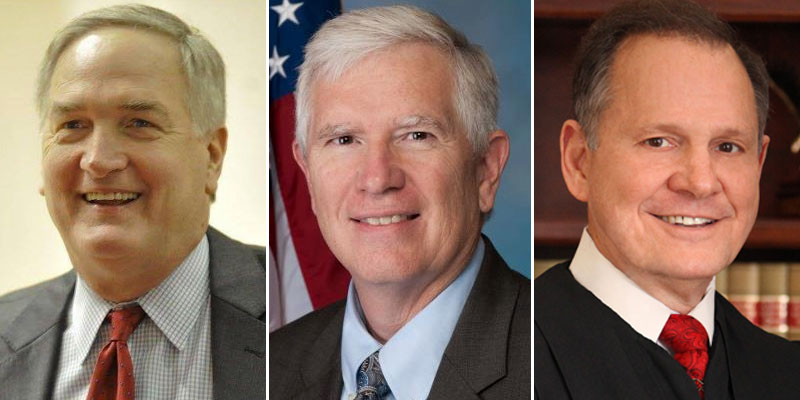 Just 12 days away from the Republican primary for U.S. Senate, key endorsements have lined up for all three front runners. As key political figures and organizations line up to give their support, candidates are scrambling to prove that they are the clear choice for the American people. Here's all you need to know about who's supporting who:
Mo Brooks
Brooks has enjoyed the support of several influential conservatives throughout the state and nation in recent days. Several prominent conservative commentators have announced that they are endorsing Brooks for senate, including Sean Hannity, Laura Ingraham, Mark Levin, and Ann Coulter. Brooks' relationship with Hannity goes back to his time hosting radio in Huntsville. Conservative state representatives have also come to Brooks' side as the election nears. At an event on Wednesday, seven Alabama delegates expressed their support for the Congressman. The delegates included Ed Henry and Bradley Williams.
Luther Strange
Strange has been backed by multiple influential organizations since the beginning of his campaign. He's received the vocal endorsement of two very important conservative organizations, the National Rifle Association (NRA), and the National Right to Life. In a release posted on their website, NRA chairman Chris W. Cox praised Strange saying, "Throughout his career, Sen. Strange has shown tremendous leadership in protecting our fundamental right to self-defense. As a champion for gun owners in Alabama and across the country, Sen. Strange is the right person to succeed Jeff Sessions as U.S. senator." The National Right to Life is a prominent pro-life advocacy group which has backed Strange as a candidate committed to defending the rights of an unborn child.
Roy Moore
While he hasn't had the big-name supporters that Brooks and Strange have enjoyed, Moore has received several key endorsements by groups across the state. The Coalition of African-American Pastors gave Moore its support in early June when Rev. William Owens took to Twitter to support Moore's candidacy. More recently, Moore has been backed by the Alabama Republican Assembly. According to Alabama Today, the ALRA stated, "while there are several good candidates that are running for this position and who would serve Alabama well in the Senate, the Republican Assembly voted overwhelmingly for Judge Moore because of his demonstrable commitment to conservative principles and a willingness to stand up against an out of control Federal Judiciary." Moore has also been endorsed by conservative actor and writer, Chuck Norris. According to WKRG, the "Walker, Texas Ranger" actor stated, "Judge Roy Moore is the real deal… The Washington establishment knows they won't be able to count on him, but Alabama voters can." This recent endorsement brings some name recognition to Moore's supporters that he has been lacking in recent weeks.
While endorsements are a useful tool in highly contested elections where candidates agree on many of the issues, as is the case in this Republican primary, voters will have the opportunity to endorse their favorite candidate on August 15.
RELATED: NRA and Alabama Farmers Federation endorse Strange in U.S. Senate race
Related: Coalition of African-American Pastors Founder Endorses Roy Moore for U.S. Senate