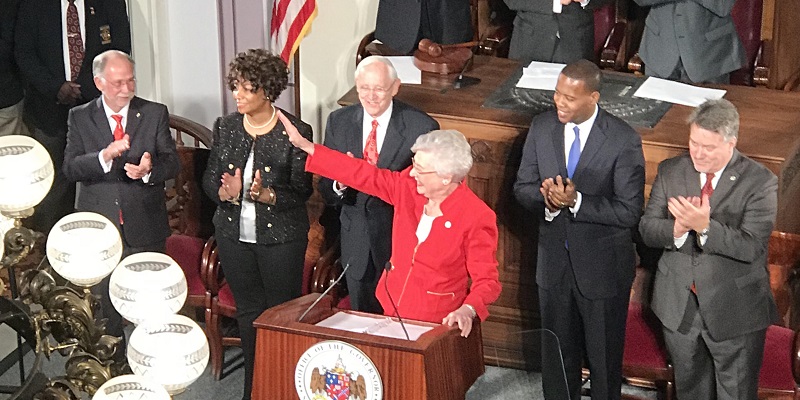 MONTGOMERY — It was described as the biggest speech of her political career and according to many, Gov. Kay Ivey delivered.
Alabama's governor delivered her first annual state of the state address, which also happens to be her last before this year's gubernatorial election, at the old House chamber in the state capitol on Tuesday just nine months after assuming the office.
Before offering lawmakers a list of her accomplishments, she kicked the speech off by proclaiming, "What a game," a reference to Monday night's college football national championship game that featured the University of Alabama Crimson Tide defeating the University of Georgia Bulldogs 26-23 in an overtime thriller.
The focus of the address was on the state's economy and her proposed legislative agenda that included pay raises for state employees, including teachers, prison reform and efforts to bring broadband Internet to rural areas.
#SOTS2018 #alpolitics from @GovernorKayIvey
Teacher raises✅
State employee raises ✅
More Troopers✅
State of the art cyber/tech school✅
Lowest unemployment ✅
Broadband to rural areas✅
No new taxes✅

— Terry Lathan (@ChairmanLathan) January 10, 2018
Her biggest applause of the night appeared to come when she announced the pay raises.
"Tonight, I am proposing a pay raise for all teachers and state employees," she said. "Every day, we depend on state employees. Whether it's a state trooper patrolling our highways, a teacher staying late to help a struggling student, or a social worker rescuing an abused child, quality state employees are essential to good government. It is long-past time for us to honor their service with better pay."
https://twitter.com/ErinWVTM13/status/950896206204604418
Ivey also announced a new school that will educate high school students about cybersecurity to be formed in the Rocket City.
"Tonight, I am announcing, the formation of the Alabama School of Cyber and Engineering, which will be based in Huntsville," she said. "This school will prepare some of our state's highest-achieving students to enter the growing fields of cyber technology and engineering. Just as Huntsville has always been on the leading edge of the rocket and aerospace industries, the Alabama School of Cyber and Engineering will ensure that Alabama students are at the forefront of today's emerging technologies."
Thanks to @GovernorKayIvey for announcing the state school for Cyber Technology and Engineering in @huntsvillecity for middle and high school students!

— Senator Arthur Orr (@SenatorAOrr) January 10, 2018
Another announcement that was well received by the attendees was the news that Kimber Firearms would be building a facility in Pike County.
"News of our economic successes seem to be a daily occurrence," Ivey said. "In fact, I am proud to announce this evening that Kimber Firearms will build a $38 million production facility in Troy, bringing with it 366 new jobs! These are good, high-paying jobs, and will enable more of our citizens to provide for their families while taking part in the rich history of the Second Amendment. We are proud and honored to welcome Kimber to Alabama."
Ivey did not make mention, however, of the $1.6 billion Mazda plant reportedly to be built in Limestone County.
There was a standing-room-only crowd in the chamber for the 40-minute speech that received positive reviews from around the media.
This is a nonpartisan speech from Ivey. You could plausibly hear this coming from a Democratic governor. #alpolitics

— Brian Lyman (@lyman_brian) January 10, 2018
Ole @GovernorKayIvey hitting it out of the park tonight. I know we have a lot of fun with her… but she is laying it down.

— Matt Murphy (@mattmurphyshow) January 10, 2018
"The state of the state is strong & our future is as bright as the sun shining over the Gulf." –@GovernorKayIvey during her first #StateOfTheState address #alpolitics pic.twitter.com/j7xQeiNICe

— ALGOP (@ALGOP) January 10, 2018
Ivey closed her speech by noting that although the "ship of state" was in need of a course correction when she assumed the office, it is now headed in the right direction.
"The ship of state has been steadied. Together, let's move it in a new direction toward progress and sustainability," she said. "I am honored to be at the helm of this magnificent ship we call Alabama, which benefits from a strong and committed crew, the good people of Alabama.
Jeff Poor is a graduate of Auburn University and works as the editor of Breitbart TV. Follow Jeff on Twitter @jeff_poor.