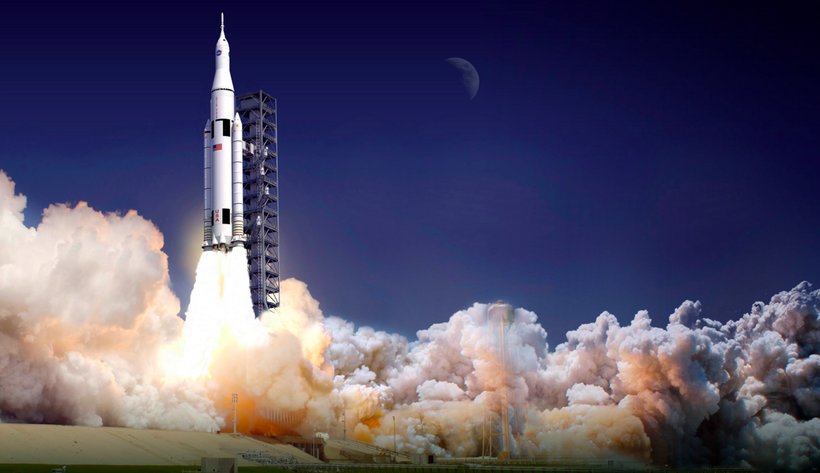 By: Todd May, director of NASA's Marshall Space Flight Center
NASA is making great strides on the journey to send astronauts farther into space than ever before. And in a very real sense, the first leg of the journey to Mars is happening right here in Alabama. That's because America's next great ship – NASA's Space Launch System – is designed, developed and managed by the agency's Marshall Space Flight Center in Huntsville.
The first rocket designed to launch astronauts on the journey to Mars, SLS will be the most powerful rocket every built and, with the Orion spacecraft, will move America into a new era of human exploration.
NASA's first uncrewed test flight with the Orion spacecraft atop SLS, called Exploration Mission-1 will pave the way for future flights with astronauts to deep space, and eventually missions to Mars. Flight hardware for EM-1 is currently in production, and this summer the largest rocket fuel tanks ever built will roll off assembly lines at our Michoud Assembly Facility in New Orleans. Some will come up the Tennessee River for testing in Marshall's newest test stands that have literally changed the skyline in Huntsville.
Day and night, Alabama plays a key role in cutting-edge research taking place off the Earth on the International Space Station. For the last 15 years Marshall has worked 24/7, 365 days a year to help prepare and guide astronauts on the orbiting laboratory in performing cutting edge research. This year, flight controllers at Marshall assisted astronaut Scott Kelly during his historic year in space — the longest time ever spent in space by an American. The ISS is our test bed for human exploration beyond low-Earth orbit, and through our space science experiments – NASA and our partners are living and working in space to prepare for the longer, more distant SLS missions.
Today we are closer than ever before to sending astronauts to Mars, and NASA's close relationships with our partners here in Alabama are making this possible. For example, construction recently began in three Alabama communities on a 213-foot, 230,000-pound mock-up of the SLS core stage. Companies in Huntsville, Russellville and Cordova are building the full-scale pathfinder model to help demonstrate operations and transportation, including routes for testing, assembly and launch.
More than half of NASA Marshall's contracts are sourced in Alabama, resulting in more than 22,000 jobs in the state alone. According to a recent economic impact study, each year Marshall generates approximately $1.3 billion in labor income, an estimated $3.8 billion in economic output and $96 million in state and local tax revenues.
To recognize the importance of the space agency and state's enduring partnerships, Thursday will mark NASA Day at the Alabama State House. Informative exhibits will highlight the work at Marshall on SLS and other space programs. And NASA team members are busy this week conducting virtual learning events in classrooms across the state and visiting Montgomery-area schools and nonprofit organizations to engage students in hands-on science, technology, engineering and math activities and to prepare the next generation of engineers and explorers.
Join us as we celebrate the historic roles Alabama and Marshall have played in NASA's success and the current efforts helping lead the nation into the future along the journey to Mars.
At Marshall, nothing excites us more than the human exploration of space. That's because where we go there are no markets; where we go, there are new things waiting to be learned. We're thankful and proud that Alabama is on the journey with us.
---
Todd May is director of NASA's Marshall Space Flight Center in Huntsville. Marshall manages the Space Launch System and a broad portfolio of exploration and science programs for NASA.
Don't miss out!  Subscribe today to have Alabama's leading headlines delivered to your inbox.