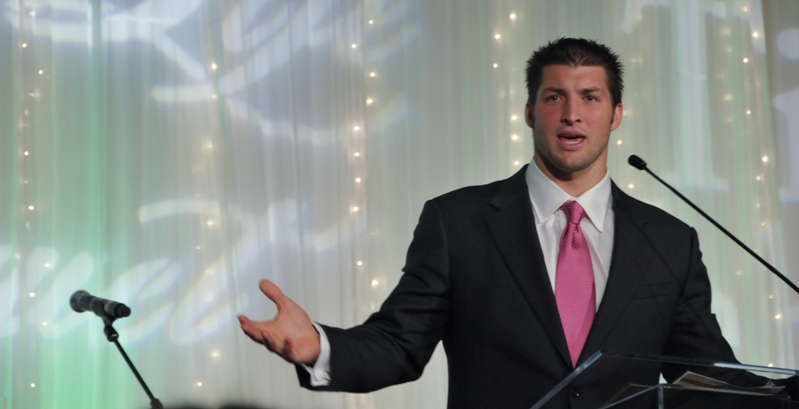 ESPN announced a multiyear agreement with Tim Tebow, ensuring that the former Florida and NFL quarterback will continue with the SEC Network as an analyst. He began with the SEC Network in 2014 and will remain part of "SEC Nation," which is the mobile college football preview show each Saturday on the SEC Network. Hosted by Maria Taylor, Tebow joined former LSU standout Marcus Spears and Paul Finebaum on the show last season.
"Over the last three years ESPN and the SEC Nation crew have become like family," Tebow said in a news release. "I love the passion that SEC fans bring to our set every Saturday morning and I look forward to continuing to share my own love of the game with fans on ESPN and SEC Network."
Tebow's exploits on the football field are well known. He won two national championships and was twice SEC Player of the Year during his time at Florida. In 2007, he won the Heisman Trophy, college football's most prestigious award. He played three seasons in the NFL after being drafted in the first round by the Denver Broncos. He participated in 37 total games and 18 regular season contests. He threw for over 2,400 yards while in the league, including 17 touchdowns, and ran for 989 yards and 12 touchdowns.
Most recently, Tebow followed his dream to pursue a career in professional baseball. He signed a contract with the New York Mets in September, and he began the 2017 season with the Columbia Fireflies, a Class A baseball franchise based in South Carolina. Just this past week, Tebow got four hits for the Fireflies. He is 22 of 91 at the plate in 25 games this season.
His thrilling play and commitment to his Christian faith have made Tebow one of the most cheered for and polarizing athletes in today's sports world. It looks as if he will continue to be a central part of SEC football coverage for a while.
Don't miss out!  Subscribe today to have Alabama's leading headlines delivered to your inbox.