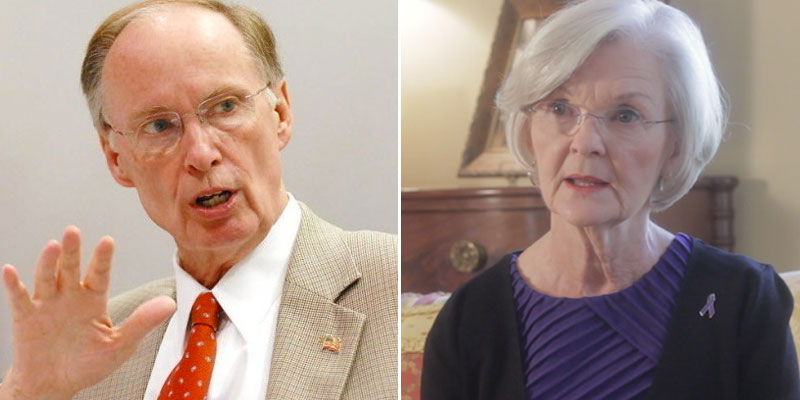 MONTGOMERY, Ala. — Text from the 131 page House Judiciary Committee impeachment report reveals that his ex-wife, Dianne Bentley, suspected a relationship between her husband and advisor Rebeckah Caldwell Mason as far back as 2013. The Bentley's divorce was finalized in September of 2015.
The governor's administration has been mired in scandal since Yellowhammer first released audio of him allegedly making sexual advanced towards Mason in 2014. He has repeatedly denied any wrong doing, both moral and legal. Since that time, he has faced state and federal investigations, along with an ongoing impeachment effort by members of the State House of Representatives.
During September of 2013, Mason was spending her nights in the pool house of the Governor's Mansion, as her family still lived back in Tuscaloosa. She became concerned increasing communications between Mason and her husband involving non-work related topics.
The report reads:
Ms. Bentley's worries, however, arose from her perception that Mason was frequently texting her husband on weekends with unnecessary "emergencies" or simply about football games. In October 2013, Ms. Bentley's Chief of Staff, Heather Hannah, had what was, for her, the first "red flag" in the Bentley-Mason relationship. Mason was at the mansion working on a speech with Gov. Bentley when Hannah walked into the room. They seemed to jump at Hannah's presence as if they were uncomfortable with someone seeing them.

Ms. Bentley had a similar experience at around the same time when Gov. Bentley was at their home in Tuscaloosa recovering from hernia surgery. Ms. Bentley returned from a trip to the grocery store to find Mason sitting with Gov. Bentley, and the pair reacted awkwardly when Ms. Bentley came into her home.
Yellowhammer has obtained a copy of the full report. You can read the full text here.
Don't miss out!  Subscribe today to have Alabama's leading headlines delivered to your inbox.