BIRMINGHAM — On May 11, 1963, the house in Birmingham where Reverend Alfred Daniel Williams "A.D." King lay asleep with his family was bombed by someone angry at King's leadership in the civil rights movement.
Fifty-seven years later, U.S. Secretary of the Interior David Bernhardt traveled to that same house so he could personally oversee its addition to the African American Civil Rights Network.
Though not as famous as his elder brother, Martin Luther King, Jr., the younger King was a prominent civil rights leader in his own right. He led the Birmingham Campaign while serving as reverend of the First Street Baptist church in the Ensley neighborhood of the Magic City.

According to the King Institute at Stanford, angry protesters filled the streets that May evening after learning of the failed assassination attempt at the faith leader's home.
A.D. King went out to join the protesters, who were on the verge of descending into riots.
"My friends, we have had enough problems tonight. If you're going to kill someone, then kill me. … Stand up for your rights, but with nonviolence," he told the crowd, which reportedly dissipated soon after.
King tragically drowned at age 38 in 1969 but his widow, Naomi Ruth Barber King, and daughter, Dr. Alveda King, were both on hand Thursday for the addition of the A.D. King House to the African American Civil Rights Network; both women were in the house when it was bombed.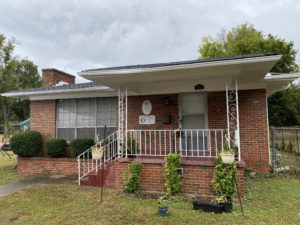 The African American Civil Rights Network was created by a unanimously passed act of Congress and signed into law by President Donald Trump in January 2018. It catalogs and publicizes locations significant to the African American Civil Rights Movement of the 1960s.
"I am humbled to be here," began Secretary Bernhardt when he began his remarks Thursday morning.
The A.D. King home was purchased in 2005 by Omie Crockett, Sr., a contemporary of King's and civil rights foot soldier who is now 98 years old. Crockett paid to restore the home and was praised by Bernhardt and members of the King family on Thursday. His daughter, Jacqueline Crockett Washington, represented him at the ceremony on Thursday.
"This is a home where many civil rights movement meetings were held," advised Washington, adding, "Words cannot express our sincere gratitude. To us, this represents all that Rev. A.D. King, Dr. Martin Luther King Jr., and other civil rights greats fought for."
"This home could have been torn down, those stories could disappear," Bernhardt said of the value added by recognizing sites such as the A.D. King House. "
"Those stories in my opinion are what bring us together as a community and as a country. Today's actions ensure that the events that occurred here on May 11 1963 will never be forgotten, ever," Bernhardt continued about the importance of the African American Civil Rights Network and its inclusion of the King house.
Aurelia Skipwith, the director of the United States Fish and Wildlife Service, was on hand for the ceremony Thursday morning and noted that the A.D. King House is the 32nd site on the African American Civil Rights Network. Skipwith had a role in implementing the Network before being nominated to head the Fish and Wildlife Service.
"This event is also particularly meaningful to me, because my parents are from Columbus, Mississippi… without the contributions of A.D. King and countless others fighting for freedom and equality I would not be standing here today," said Skipwith.
"I am proud to be the Service's 22nd director and the first African American to hold that position in our organization's 150-year history," she informed those attending.
During the ceremony, Bernhardt sat to sign the official proclamation adding the A.D. King House to the Civil Rights Network and was embraced by Naomi King.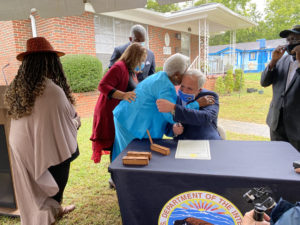 Yellowhammer News asked Bernhardt what he had learned in the commissioning of the 32 sites so far in the Civil Rights Network.
"Understanding how courageous not only are the people we know, but their entire families were involved. Tremendous courage, tremendous leadership," he replied.
At the conclusion of the event, Yellowhammer asked Naomi King, A.D.'s widow, what it was like to have the Secretary of the Interior travel to Alabama to memorialize the house she once lived in.
"It means the world to me," she responded, "When I say that it means the world to me, in my heart of hearts, people are people, and love has no color. To have this brother [Bernhardt] sit here today to help celebrate this, it means so much to me."
Henry Thornton is a staff writer for Yellowhammer News. You can contact him by email: [email protected] or on Twitter @HenryThornton95
Don't miss out!  Subscribe today to have Alabama's leading headlines delivered to your inbox.