Here's what you need to know about the four Republicans challenging Richard Shelby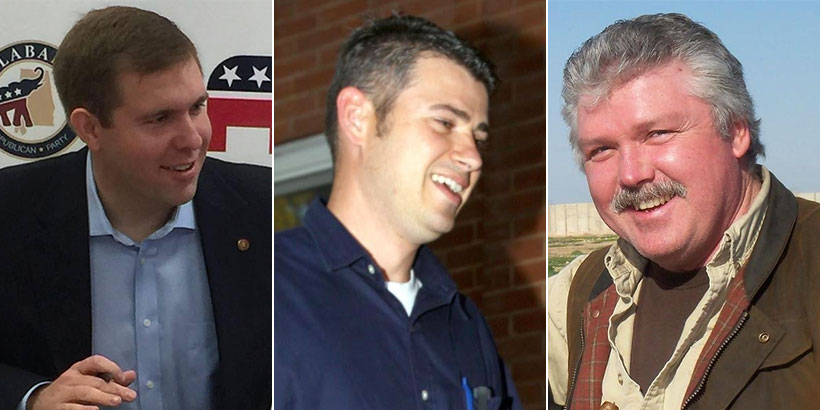 *This article has been updated to add a fourth candidate who qualified just before the deadline.*
Sen. Richard Shelby (R-Ala.) has attracted a handful of challengers in his bid for a sixth term in the U.S. Senate, none of whom appear to pose a serious threat to the popular conservative closing out his career on his own terms.
First elected to the Alabama State Senate in 1970, Shelby went on to serve four terms in the U.S. House before being elected to the U.S. Senate in 1987.
The anti-incumbent sentiment among the U.S. electorate has led to the defeat of several longtime incumbents in recent years, most notably former House Majority Leader Eric Cantor. Sen. Thad Cochran (R-Ms.) also barely survived a challenge last year.
But Shelby has insulated himself from similar issues by voting with his constituents — Heritage Action currently ranks him the third most conservative U.S. Senator and he has a lifetime A+ rating from the NRA and conservative immigration group Numbers USA — and by remaining accessible. Unlike many Senators, who only have to run for re-election once every six years, Shelby still maintains his primary residence in his home state and holds public town halls in every county in the state ever year (almost 2,000 and counting).
"I am running for the United States Senate because I'm not done fighting for Alabama," Shelby told Yellowhammer. "My unmatched record of proven, conservative leadership puts me in the best position to stand up for Alabamians against big government policies in Washington. I have always and will continue to put Alabamians first."
With all of that in mind, here's what you need to know about the four Republicans challenging Alabama's most powerful politician:
Marcus Bowman
The Fairhope resident has only lived in Alabama for a few years. He manages regulatory affairs and compliance for Standard furniture manufacturing, according to an online bio. Bowman's résumé also includes a stint managing transportation-policy research projects "for an Asian company located in Washington, D.C.," where he lived prior to moving to the Yellowhammer State. He holds a Masters of Public Policy (MPP) from George Mason University and a B.S. in Finance and minor in Economics from Iowa State University.
His most recent political involvement was as chairman of the Baldwin County Young Republicans.
John Martin
Martin is a Dothan resident who flew reconnaissance drones for the U.S. Army during the Iraq War.
Flying the RQ-7B in Iraq.

— John W. Martin (@kahuna22) January 9, 2010
Here's how the Marines describe the RQ-7B Shadow that Martin flew:
The RQ-7B Shadow is designed to provide reconnaissance, relay communications and assist in target acquisition. The RQ-7B Shadow keeps an eye above the battlefield for extended periods of time, constantly relaying information between air and ground controls.
He has been a commercial pilot since returning from the Middle East.
Martin ran for Congress in 2008, only raising about $1,000 total.
Political insiders in the Wirgreass say Martin could serve as something of a stalking horse for Tea Party leader Becky Gerritson's campaign in Alabama's 2nd Congressional District by helping push up turnout among grassroots conservatives in that part of the state.
Jonathan McConnell
McConnell was Auburn University SGA President in 2004 before going on to serve as a Captain in the U.S. Marines from 2005 – 2008. He was stationed on the outskirts of Fallujah, Iraq in 2006 and later redeployed to the Syrian Border in 2007.
He now runs a maritime security firm called Meridian Global Consulting, protecting merchant ships from piracy.
McConnell is also the son of former Alabama Republican Party Chairman Roger McConnell, giving him some state party ties that other candidates may not have. The McConnell camp took some early hits, even before announcing his candidacy, after being turned away by dozens of elected officials and party leaders whose endorsements they sought ahead of his public announcement. Undeterred, McConnell is most likely angling to raise his name recognition for another run in the future.
Official announcement: Jonathan McConnell will be running as a Republican candidate for the 2016 US Senate race #McConnell2016 #ChangeforAL

— Jonathan McConnell (@mcconnell2016) November 6, 2015
Shadrack McGill
In a 2010 election cycle that was very good for Alabama Republicans, McGill pulled off a stunning State Senate victory over longtime incumbent Democrat Lowell Barron, one of the Legislature's most powerful members.
An otherwise unremarkable senate term was briefly interrupted when the McGills made national headlines in 2013. Sen. McGill's wife took to Facebook to vent about women she says emailed or Facebook messaged her husband "inviting him to explore" and also "sending pictures of themselves." Her post went viral, landing them on countless national websites and even resulting in a nationally-televised interview on ABC News.
Sen. McGill said the Facebook messages finally caused his wife's frustrations to boil over after two strippers had previously come to his house in the middle of the night during his campaign.
"During the campaign, we had two strippers come to my house at 1 o'clock in the morning," Sen. McGill recalled. "Me and my wife both got up to address the situation. They did inform me that they were strippers at a particular club in Huntsville. In my 35 years, I've never had that happen."
He chose not to run for re-election in 2014, but is back now and will likely be angling for the support of Alabama's large evangelical population.
---
Here's what you need to know about the three Republicans challenging @SenShelby https://t.co/LzaRnStlWI

— Cliff Sims (@Cliff_Sims) November 7, 2015