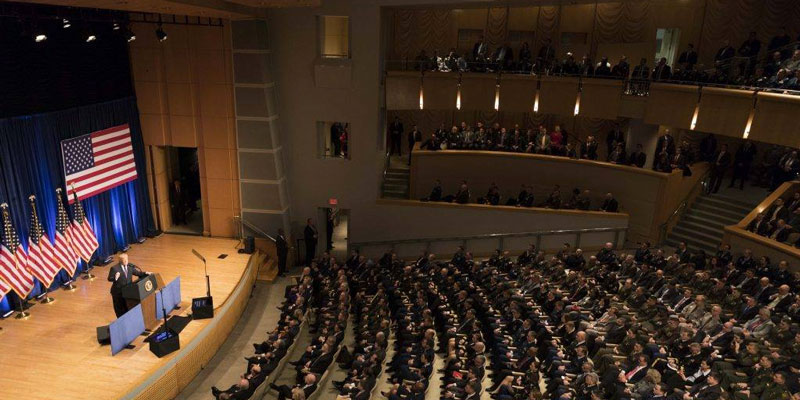 Listen to the 10 min audio
Read the transcript:
TOM LAMPRECHT:  Harry, yesterday, we talked about the tax package that was passed by Congress. There was another news story that made headlines last week and that was Donald Trump's national security strategy speech.
To highlight the four pillars of that speech:
Protect the Homeland
Promote American Prosperity
Preserve Peace Through Strength
Advance American Influence.
WHY A NATIONAL SECURITY SPEECH?
DR. REEDER: Tom, it was given the name "The Sustainment Strategy of America First or American Greatness or American Exceptionalism" as the nickname it was given.
Every president in recent history has had a national security speech, but what is interesting is, our last two presidents, President Bush, it took him 20 months before he made one and it was on the heels of 9/11 and President Obama made his speech of "leading from behind" as a national security strategy and he made his speech, I think, it was 16 months. Now, President Trump has done so in less than 12 months.
It doesn't make it good or bad – it's just interesting. He had a team fully focused on this and this was something very important to him in terms of his promises in the campaign and so General McMaster, and Dina Powell and Nadia Schadlow were the ones that had been working so hard on it.
Nothing in it should surprise anyone, but I will confess the coherency of it somewhat surprises me and then there were a couple of things in it that did encourage me, overall. Let's walk our way through that.
PEACE THROUGH STRENGTH
First of all, this national security strategy very much is a "peace through strength," which has been the mantra of every president from Franklin Delano Roosevelt to the present except for President Obama. Every president has gone the route of "peace through strength."
I actually like the way the speech said it: "If we do not build a military capable of winning any war, then we will not be capable of keeping the peace."
If you have a military that is so overwhelmingly strong, then except for this terrorist approach to war, the regular conventional warfare, people are not going to want to do that because they know it is to their ultimate destruction.
This "peace through strength," he put a big emphasis on technology. He did talk about increasing the number in our military forces of soldiers, and sailors and marines. He did mention also, over the next 12 months, of increasing the size of the navy to a 355-ship navy.
ECONOMIC STRENGTH CRUCIAL
One of his pillars in this is the importance of economic strength. Economic strength is what undergirds military strength and military strength should allow creativity and economic industrial activity.
However, he also made the point that he wanted to build the military from home-based factories and home-based manufacturing and home-based technological development – that the two work together. That was very much what Eisenhower developed and warned against – it's called the "Military Industrial Complex" – but, very clearly, that in this speech he tied the two together.
He also gave a statement that provided somewhat of a moral underpinning to his America First idea. He made the point, "What I mean by America First is what I would expect, any leader of any nation that I'm talking with, I would expect them to be concerned for the country they've been elected to represent first."
ALLIES … AND ENEMIES
He also did something that no other president has done in this: He actually called out, in the speech, Russia and China as threats to America's security. Here is a guy being accused of colluding with Russia – being too close to them – but it's interesting how, on his personal level, he keeps reaching out to their leaders trying to build a bridge but, in the public arena, he is identifying them as, right now, economic enemies and potentially military enemies and we have to be ready to defeat them on both fronts.
He also made a commitment to renewing the integrity of our relationship with our allies. To sum up, he said we're going to protect the homeland, meaning our people and our economic well-being and our virtues.
OUR VALUES — NOT ANY ETHNICITY– MAKE AMERICA SUPERIOR
America is rightly so – this needs to be understood – America should not be seen in its strength in terms of an ethnic superiority of any one element of America, but of its values that are represented in its founding documents.
Now, he never defined virtues and values. I'm hoping that's what somebody will point out to him – the values and virtues that are encased in our founding documents.
He also made the point that national security is tied to economic well-being and prosperity, again, the home industries being foundational for the military strength of the nation and, in the "peace through strength," that he affirmed that as a strategy and that he would advance the interest of our values in other nations, but he is not going to engage in nation-building.
And, personally, I would say that is exactly what I think a government should be doing. A government is not a church to evangelize our way of life upon other people.
We can attract people to our way of life, we can use our strength to defend people who are under attack by despots and tyrants and we can be there for our allies, but our call is not to go into nations and undermine one national government to institute our own national government, but to have the kind of government and nation that will attract people to what we do.
WHAT WAS MISSING FROM SPEECH
Now, what was absent in it, I did not hear the resounding note of what is absolutely crucial to America – and many presidents have done this so it's not unpresidential – and that is the spiritual strength of the people.
While I do not believe the government is to pick and choose losers and winners in the field of religion, it is to recognize the importance of it. That's why, in the First Amendment, the first affirmation is the free practice of religion.
A government where the Constitution is king, a government that is a republic that works by consensus and covenant and a government of laws must be a government of a people who are a moral people. If we are not a moral people, then capitalism becomes greed and then people will find ways for segments of society to dominate other segments of society.
We need to be a moral people and that means the government must see, first of all, the value of the free practice of religion, protect the free practice of religion, promote the free practice of religion and affirm it publicly through its presidential proclamations.
I found that element missing. That's an element that I'm hoping at least others within his cabinet and within his leadership team will promote.
WITHOUT THIS … WE'LL NEVER BE GREAT
A country will not stay strong just because it has a great economy and just because it has a great military. Its ability to sustain an economy and a military is directly related to the moral fiber of a nation and that's related to the soul of a nation and that is no more than the sum impact of influential dynamics of a strength of spirituality. In our country, it has been two great awakenings and I'm praying for another great awakening.
Then again, having made that critique of the president, I would say the responsibility for the spiritual dynamic of this nation does not rest upon him – it rests upon the church of Jesus Christ and people like me. I need to get about the business about the Great Commission, making disciples; the Great Commandment, loving the Lord with all my heart, soul and mind and my neighbor – all my neighbors – as myself; and I need to be about a great commitment to lay down my life for Christ to reach this nation and to reach the world.
Tom, let me be very specific: The church of Jesus Christ needs to be sharing and preaching the Gospel of Jesus Christ – that He died for our sins and that He rose again – and you can know the eternal security of a relationship with Christ and you can share it and give it away to others. That's what I am speaking of our strategy to reach a nation so that we might reach all the nations.
Dr. Harry L. Reeder III is the Senior Pastor of Briarwood Presbyterian Church in Birmingham.
This podcast was transcribed by Jessica Havin. Jessica is editorial assistant for Yellowhammer News. Jessica has transcribed some of the top podcasts in the country and her work has been featured in a New York Times Bestseller.
Podcast: Play in new window | Download
Subscribe: Google Podcasts | RSS