It is an undisputed fact that Georgia's Kirby Smart is building a juggernaut of a football program in Athens.
In many ways, the Bulldogs' rise to powerhouse status mirrors how Nick Saban formed Alabama's dynasty.
Smart is a longtime former apprentice of Saban's, after all. Georgia can credit much of its success to Smart's time under Saban learning how to run and build a program.
Through brute physicality on offense and hateful defensive play, Georgia has become a dominant force to be reckoned with. Pull highlights from Saban's teams circa 2008-2013 and you'll see the same overpowering display of competition that created the greatest college football dynasty of the modern era.
In 2016, during his first year as head coach of his alma mater, Smart led the Bulldogs to an 8-5 record. The Bulldogs have not looked back since.
Saban would meet his former defensive coordinator in the 2017 National Championship Game, winning 26-23 in overtime. The two met the following season in the SEC Championship Game, which saw Smart fall to his former boss 35-28 in dramatic fashion.
In 2020, Smart and Co. traveled to Tuscaloosa in a failed 41-24 effort to defeat Alabama on its home turf.
Last year, Georgia and the Tide met once more in Atlanta for the SEC Championship. While besting the Bulldogs 41-24, UGA got the better of Saban's squad in the most important matchup of the season: The National Championship Game.
In an impressive 33-18 victory, Smart met a smiling Saban at midfield in a post-game handshake.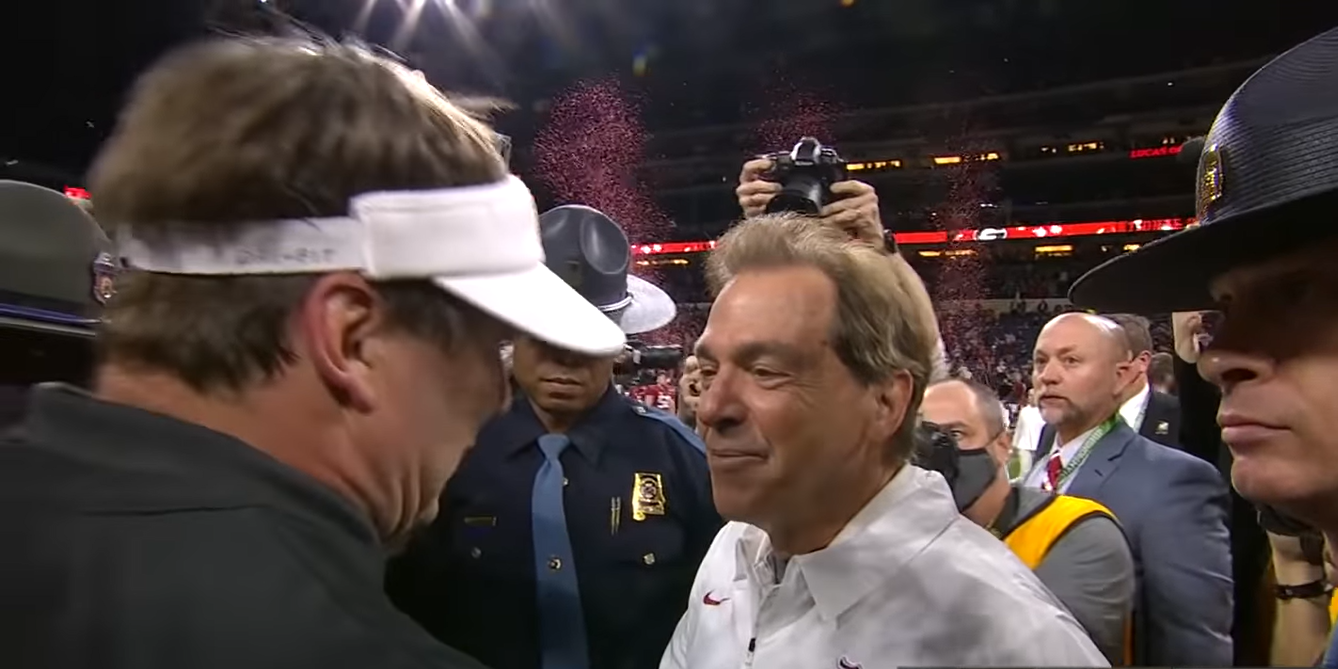 The smile upon Saban's face appeared to be somewhat ominous. Whether he was happy for his former assistant to win his first title, or a conveyance of Saban knowing that Smart's veteran squad beat what was perhaps his most inexperienced team, the smile was nearly sinister.
Last year's national championship, coupled with Georgia's strong performance to start this season, has sparked discussion whether Smart's program has overtaken Alabama as the king of college football.
Could this be true?
ESPN's Paul Finebaum was posed this question by anchor Mike Greenburg during Wednesday's broadcast of "Get Up."
"They have, Greeny," Finebaum answered. "Just watch the NFL on Sunday and there are a lot of Alabama players that are no longer on that campus. They still have the two that matter (Will Anderson and Bryce Young), but so many have gone and they haven't replaced some of the elite wide receivers. They haven't replaced some of the elite defensive players."
.@finebaum says Georgia has replaced Alabama as CFB's premier program 😳

"Georgia looks like a better program right now, and they're backing it up on the field." pic.twitter.com/prTpZO9fYG

— Get Up (@GetUpESPN) September 21, 2022
Alabama's most prevalent issue, according to Finebaum, is the fact that Smart no longer walks the same sideline as Saban.
"I think overall the biggest deficiency for Alabama today is the fact that Kirby Smart is at Georgia," he said. "He was Nick Saban's most valuable assistant and he's not been able to replace that. And I think a lot of the shift has moved to Georgia. He's very comfortable, Kirby's very comfortable with his staff. He has Will Muschamp there now."
While Finebaum makes a valid point in Smart's significance to Alabama before his departure for Georgia, it ignores the notion that Saban has had three offensive coordinators that modernized a seemingly antiquated Alabama offense.
Lane Kiffin (Ole Miss head coach), Brian Daboll (New York Giants head coach), and Steve Sarkisian (Texas head coach) all were critically important and invaluable in Alabama boasting one of the most efficient offenses in football.
Furthermore, Finebaum makes quite a bold claim when you look at Saban's team success since Smart left. Alabama has won two national titles and played in the national championship five times since 2016.
The most staggering is that Alabama has only missed a national championship berth once in the same time span (2019 after quarterback Tua Tagovailoa went down with a season-ending injury).
It is important to note that just as Alabama and Saban reload annually from an on-field talent perspective, Saban is tasked year-in and year-out with replacing assistants. While the loss of continuity can certainly be a hindrance, Alabama is the only program in the country that has demonstrated that it can overcome mass staffing turnover.
"And Nick Saban has good assistants; he has Bill O'Brien but he has never been able to replace Kirby Smart, and I think the shift has already happened," said Finebaum. "I'm not saying the dynasty's over, I'm not saying any of that, Nick Saban is about to be 71 years old. But Georgia looks like a better program right now and they're backing it up on the field."
It cannot be overlooked that Alabama is still recruiting at an incredible clip and is still taking much of Georgia's top talent out of the Bulldogs' own backyard, including current standouts Anderson and Brian Branch.
Saban and the Tide have already received commitments from the top two recruits in the Peach State for Alabama's No. 1 ranked 2023 class, including the son of a former Georgia standout.
Georgia undoubtedly is an elite program. There is an ocean of difference between the elite and the very good. The elite are in the College Football Playoff picture annually. Arguably, only Alabama, Georgia and Ohio State fit that bill.
It can be contended that there really is no "shift," as Finebaum alludes to. Rather, Georgia has just ascended to the ranks of elite alongside Alabama.
The present discussion is comparable to the media-driven debate that occurred around  2016 to 2018 which conjectured that Alabama was replaced by Clemson as college football's pre-eminent program.
We see how that worked out. The mighty Clemson Tigers are truly the pre-eminent program as they aim to defend their Cheez-It Bowl victory over Iowa State.
Saban will reign as the "king of college football" until he decides to step down from his throne. When he speaks, the college football world listens.
He warned that the transfer portal would create a free agency model in college football. That's exactly what has happened. How did he respond? He has utilized the transfer portal to upgrade his already-loaded roster with other programs' top talent.
He warned that NIL, while a good thing for the student athletes, needed a clear framework that promoted fairness and equity. While that issue is still getting ironed out, Saban has provided opportunities for his players to showcase their talent and create value for themselves.
Despite all of the claims that have been made regarding Saban and Alabama — the dynasty is over, Saban cannot keep up with the changing landscape of the sport, he can't overcome staffing turnover, etc., — one thing remains constant: the Tide keeps rolling and racking up titles and accolades along the way.
The throne of the college football world resides in Tuscaloosa, Alabama at the Mal Moore Athletic Facility, and the crown sits atop the head of the greatest college football coach of all-time: Head Coach Nicholas Lou Saban Jr.
Dylan Smith is the editor of Yellowhammer News. You can follow him on Twitter @DylanSmithAL
Ben Richardson is a contributing writer to Yellowhammer News
Don't miss out!  Subscribe today to have Alabama's leading headlines delivered to your inbox.