Liberty University head football coach Hugh Freeze is widely considered to be a potential replacement for Bryan Harsin at Auburn, should the program choose to make a coaching change.
Freeze saw enormous success during his tenure at Ole Miss, in which he beat Alabama's Nick Saban in back-to-back seasons with a high-powered offense. His run with the Rebels was cut short, though after a recruiting violation-related lawsuit unveiled that he had placed at least 12 calls to escort services on his university-provided cellphone.
Freeze was offered an ultimatum by university leadership in 2017 to either resign or be fired. Shortly after, he chose to step away from his position in Oxford.
An avowed Christian, Freeze would find redemption two years later when he was granted a second chance at coaching at Liberty University. Thus far in his four years at the Evangelical private school, Freeze holds an impressive 30-12 record.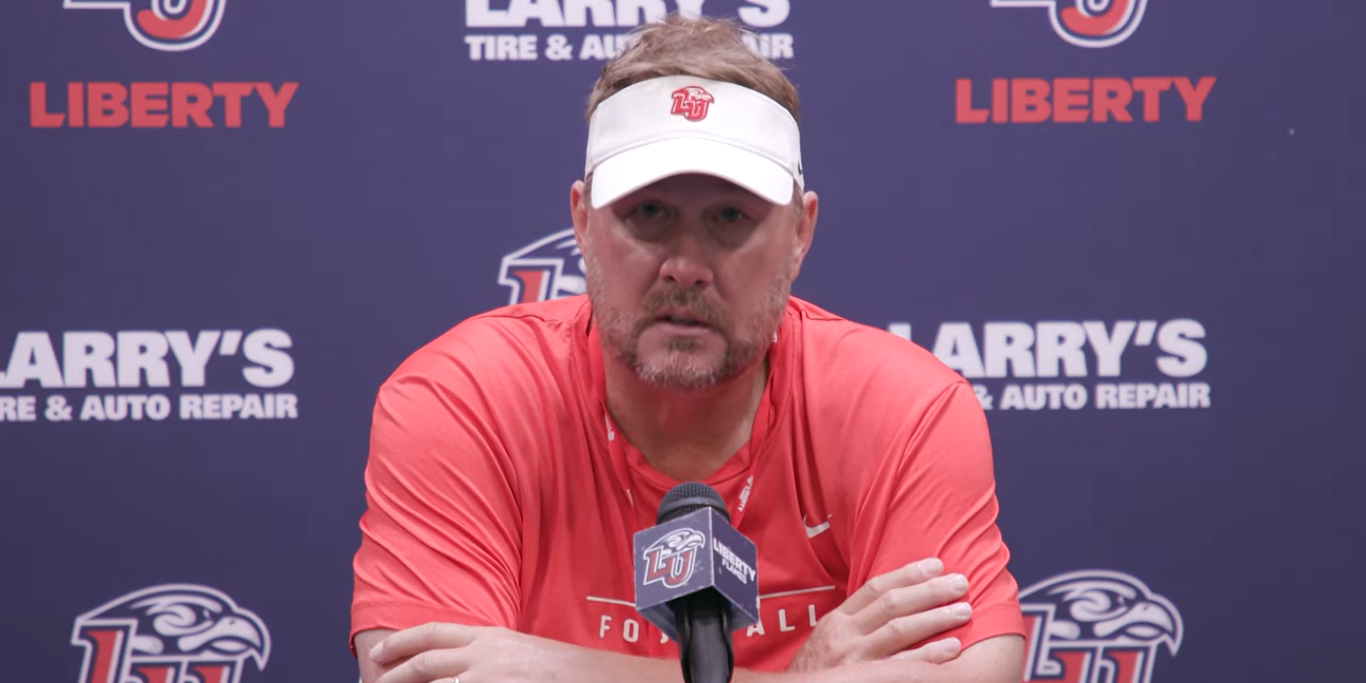 RELATED: Biggest names floated for Harsin's replacement if AU makes a change
During Thursday's airing of ESPN's "The Paul Finebaum Show," a caller, after discussing Auburn's quarterback situation, offered his take on Freeze's road to redemption.
"[R]eal briefly, if you don't mind, I'd like to say a little bit about Hugh Freeze," the caller said. "I'm a Christian. And I know that what Hugh Freeze did was wrong, you know, hey, look, we've all sinned and come short of God the Glory.
"And if he has truly repented of what he has done, and I think he has, because he's been at a Christian institution now, what for five years, and he's, he's got a clean slate. And I think he's deserving of a second chance. And that's why Jesus died on the cross. So we can all have a second chance."
In turn, Finebaum gave a glimpse into a private conversation he had with Freeze in the aftermath of the scandal. Freeze, the college football commentator said, convinced him that the coach had been changed.
"I'd offer this personal interaction here," Finebaum said. "I sat with Hugh. A couple of years ago, maybe three or four years ago, I can't remember when it was. We were in Oxford. And we went out to dinner. The two of us, we sat there all night in the back of a restaurant. He told me the story. He convinced me that night, and that's the only other person that was sitting there, of his convictions, like you just alluded to. And I got up and believed him. And by the way, doesn't matter whether I do or not. I'm not the final arbiter right here as you well know, but you're right.
"But he seemed genuinely sincere. This wasn't some press conference. This wasn't some hammed up TV appearance. This was just two people sitting in the back of a restaurant in Oxford, Mississippi, where he used to be the toast of the town. And this was before he got the job at Liberty. So he was really down and what he said to me, I assumed he would say it again to the people at Liberty University, and I have no doubt why he convinced them to hire him."
The caller went on to say, "If they (Liberty) had any doubts about his character, I can assure you that they would not have hired him. I think they were convinced by giving him a second chance and giving him the opportunity to prove himself you know."
Finebaum concluded the discussion by suggesting that various coaches in the sport, such as Freeze, were not immune from personal character flaws.
"He just got caught, OK … But there are a lot of scoundrels in this sport. OK. I'll just leave it there," he said. "He just got exposed … The rest of them are still hiding behind curtains."
Dylan Smith is the editor of Yellowhammer News. You can follow him on Twitter @DylanSmithAL
Don't miss out!  Subscribe today to have Alabama's leading headlines delivered to your inbox.