Eufaula High School basketball player delivers amazing post-game speech despite losing title game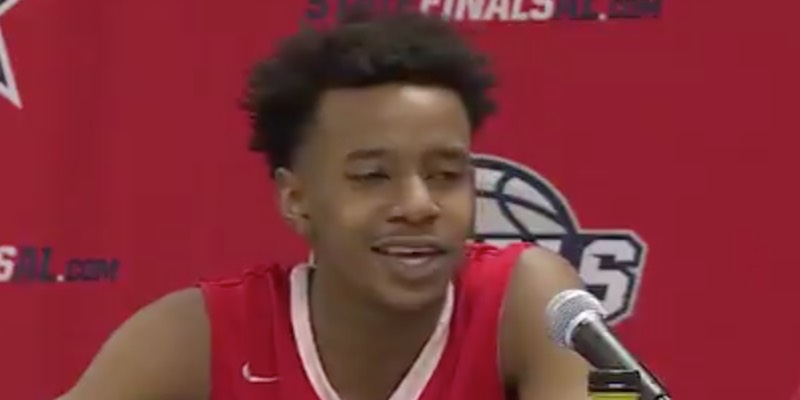 Eufaula High School's boy team lost a heartbreaker this week in the Class 5A state championship game.
According to Dothan Eagle, Eufaula overcame a nine-point deficit with three minutes remaining to force overtime, only to see their squad trail by seven points down three starters with just over a minute left in the extra period.
The Tigers had multiple chances to take the lead, but fell to Sylacauga 79-78 in Birmingham's BJCC Legacy Arena.
After the game, Eufaula senior Terrell Jones delivered an amazing speech that not only brought his coach to tears, but everyone else in the room, too.
In his final high school basketball game, Terrell Jones (@itstkadee) scored 20 pts. and fouled out late in the 4th. Eufaula lost the state championship by one point, but this kid left it all out on the court. Not a dry eye in the room after what he said at the podium. @EufaulaCS pic.twitter.com/KRfg3UML2X

— Rocco DiSangro (@RDiSangro_WTVY) March 3, 2018
Transcript as follows:
It's been a long time since, you know, Eufaula has been in the state championship. Since day one, I remember the first day Coach Smith came in the gym. He said, "If you want to be a state champion, you gotta be different. Everybody can't be a state champion."

I never forget a word that man said to me. Each and every second that wind down, I was just thinking, "I gotta be different. I gotta separate myself. I gotta separate myself to show that I'm different." Because I wanted to be a state champion. And we fell one-point short.

But I know all those young guys in that locker room, they have a bright future. Because everything that I've been through, they're going through and they still have to go through. So, it's only gonna make them better. This man right there is the best coach I've ever had in my life. I wouldn't trade him for the world.