It's no secret that Alabamians love pick-up trucks.
Even if you find yourself mired in commuter traffic in growing urban or suburban areas like Huntsville, Birmingham and/or the Eastern Shore of Mobile Bay, you're likely to be surrounded by pick-up trucks.
In fact, nearly one of every five vehicles on Alabama roads is a pick-up truck.
That's precisely why the arrival and availability of electric pick-ups is transforming the narrative surrounding EVs, especially in Alabama and other places where trucks enjoy widespread popularity because of rugged terrain, inclement weather or a tradition of truck usage.
Many consumers viewed the first EVs as small, compact commuter vehicles that lacked the size and power needed to do the job of a pick-up truck.
But today's EV lineup features something for just about everyone – compact sedans for commuters, sport-utility vehicles for families, top-end performance cars for those wanting the "wow" factor, and, yes, even full-sized, four-door pick-up trucks.
While many people still think "clown car" when they hear "electric vehicle," the new full-sized electric pick-up trucks will change that narrative forever.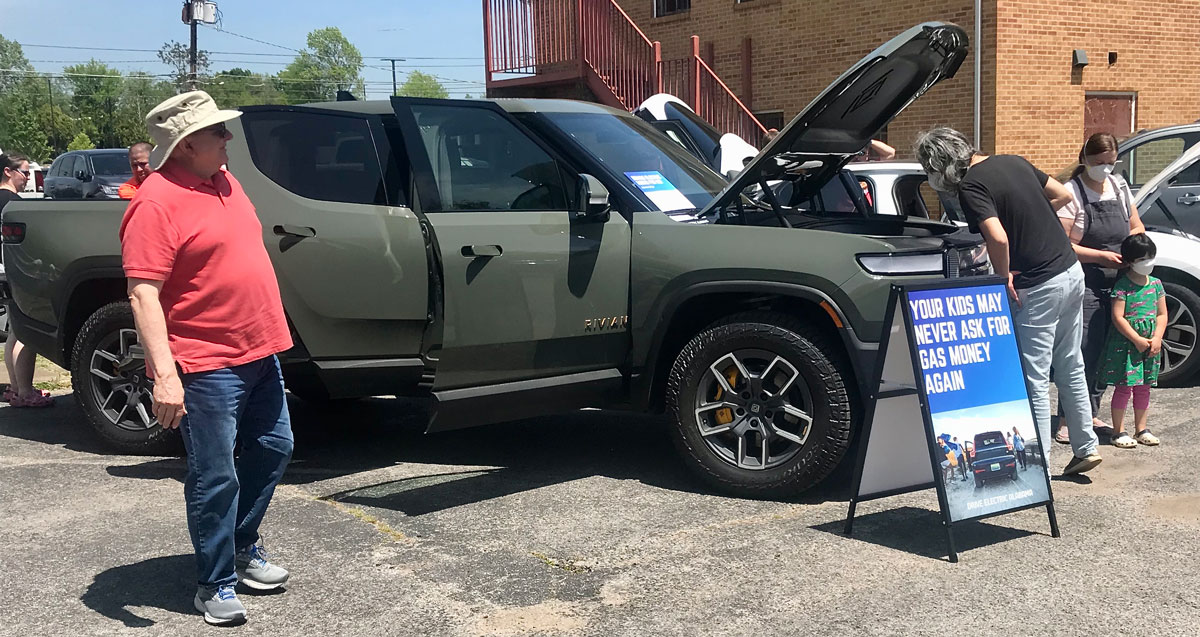 The full-sized Rivian R1T pick-up draws plenty of attention, whether it's seen on the road or at a car show, because of its novelty. The first all-electric pick-up simply showcases the possibilities surrounding electric vehicles.
Ford unveiled its F-150 Lighting – the automaker's electric version of America's best-selling vehicle – and it drew plenty of attention. The F-150 Lighting carries a MSRP sticker price of about $40,000, which is competitive with other new gasoline-powered pick-ups, although many additional trim packages can raise the price to $100,000.
Excitement and consumer demand for the for the F-150 Lightning, for instance, has been tremendous throughout the country and in North Alabama. With over 200,000 reservations, Ford is working to increase production to 150,00 units next year. A representative from Woody Anderson Ford in Huntsville said retail and fleet customers are interested in the truck.
Other automakers are also entering the electric pick-up competition, including Chevy offering the Silverado EVand Ram offering a Ram 1500 EV. In addition, Volkswagen announced plans to build and sell an all-electric pickup and SUV in the United States.
Alabamians choose pick-ups for all kind of reasons, whether that's pulling a bass boat to the lake for a weekend excursion or pulling an RV for a family vacation. Farmers, landscapers and construction workers need trucks to do their jobs.
Some people simply like the utility of being able to haul a smaller load. Others prefer the style and luxury offered by today's truck lineup.
That's why the arrival of electric pick-up trucks will help normalize EVs and start changing the "clown car" narrative surrounding them.
Tens of thousands of Alabamians drive pick-up trucks every day. Once those motorists make the conversion to an electric pick-up, that's when EV adoption could kick into high gear.
Don't miss out!  Subscribe today to have Alabama's leading headlines delivered to your inbox.