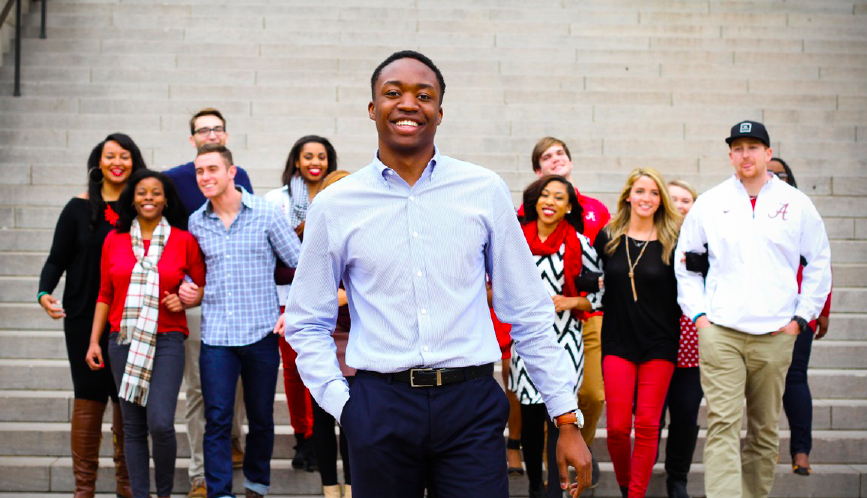 TUSCALOOSA, Ala. — The University of Alabama on Tuesday elected its first black student government association president in almost forty years, and in the process toppled the fabled "Machine," a coalition of sororities and fraternities that has controlled campus politics for much of the past century.
The student body elected Elliot Spiller, a junior from Pelham, to be their SGA leader, marking only the second time in history the school has chosen a black student for the post. Cleo Thomas was the first in 1976.
BREAKING: Univ. of Alabama elects Elliot Spillers as 2nd Black SGA Prez in history. 1st was my father, Cleo Thomas Jr pic.twitter.com/aTmfGKuRQC

— Tres (@tres_hoa) March 11, 2015
Spillers told al.com's Melissa Brown he is "shocked and thankful" to be given the opportunity.
"This is my third time at this, and each time I've grown tremendously as a leader and a person," he said. "I've never lost hope, hope for this university and what we'll accomplish in the next year. The real work begins tomorrow. To all the students who voted for me, thank you. It's because of you we have the opportunity to bring sustainable change here to Alabama."
It is done. With your incredible help, I have been elected SGA President for the 2015-2016 year. Thank you. Thank you so much.

— Elliot Spillers (@Spills1994) March 11, 2015
The University of Alabama electing a black SGA president will be the angle many in the national media take with Spillers' impressive victory, and rightfully so, considering it has happened so rarely. However, for those who have spent time around the University of Alabama campus, it is his ability to overcome "The Machine" that may be most remarkable.
For over a century The Machine has held almost total sway over Greek life and the SGA on UA's Tuscaloosa campus.
The so called "secret society" has been the topic of a cover story in Esquire magazine. It's been featured in the New York Times. It's been accused of election-rigging, voter fraud and intimidation. It was even blamed by some for the SGA being shut down for several years in the wake of harassment and assault allegations.
In Spillers' race, security cameras caught students presumed to be supporting his Machine-backed opponent stealing one of his large campaign banners from the front of a fraternity house.
But The Machine has also been responsible for electing UA SGA Presidents who have gone on to become some of the most successful and respected leaders in Alabama history.
Here's a partial list:
1915-16 Lister Hill, the first UA SGA President, became a United States Senator
1920-21 Joseph W. Sewell played for the New York Yankees with Babe Ruth and Lou Gehrig
1923-24 John J. Sparkman became a United States Senator
1928-29 Albert Boutwell, Sr. became the Mayor of Birmingham
1935-36 Hugh Davis Merrill, Jr. became Speaker of the Alabama House of Representatives
1951-52 Robert Smith Vance became a Federal Judge
1952-53 William J. Edwards III became a U.S. Congressman
1955-56 Walter W. Flowers became a U.S. Congressman and was a key democrat on the Watergate Panel. When Nixon lost his vote on the panel, he knew he had to resign.
1967-68 Don E. Siegelman became Alabama Secretary of State, Attorney General, Lt. Governor and Governor
1974-75 William Bell Blount became the Chairman of the Alabama Democratic Party
And in the past 100 years, there had only been seven Alabama students who conquered The Machine to become SGA president without their blessing. With his election Tuesday, Elliot Spillers became the eighth, and he's got some pretty big shoes to fill.
Here are the handful of non-Machine SGA presidents who came before him:
1936-37 Carl A. Elliot became a U.S. Congressman.
1963-64 Donald Wilbur Stewart became an Alabama State Senate and United States Senator
1970-71 James W. Zeigler served on the Alabama Public Service commission and is now State Auditor
1976-77 Cleophus Thomas, Jr. became the first black SGA President, went on to Harvard Law and served on the UA Board of Trustees
1978-79 A. Jerry DeVaney, after whose election The Machine added sororities to their ranks to bolster the size of their voting bloc
1983-84 John N. Bolus
1986-87 John Merrill, served in the Alabama House of Representatives and is now Secretary of State
"When I enrolled at Alabama and started looking at the history of the SGA Presidents, those people were the ones who were in key positions in leaderships in our state — senators and congressmen, even a governor," Secretary of State Merrill told Yellowhammer. "Before I became SGA President, The Crimson White (student newspaper) asked me, 'What is the Machine?' And I told them, 'The Machine is select coalition of fraternities and sororities that is specifically designed to influence and dominate campus politics.' They still use that description to this day."
And although the office he currently holds involves a much higher level of responsibility, Merrill says that his experience in student politics at Alabama undoubtedly prepared him for what he's doing now.
"I didn't run my campaign for Secretary of State any different than how I ran my campaign for SGA President. I went to see people where they were. I met with key leaders. I raised money. We had billboards, ads, brochures and t-shirts. We got statewide news coverage. So the opportunity to participate in the SGA thoroughly prepared me to know how to participate in the electoral process and how to be successful at it.
"It is a good training ground," Merrill said in conclusion. "The main thing I learned very early on after getting elected SGA President was that it's about getting things done, not getting credit for getting things done. I've carried that with me ever since."
---
Like this article? Follow me on Twitter and let me know what you think.

— Cliff Sims (@Cliff_Sims) December 3, 2014
Don't miss out!  Subscribe today to have Alabama's leading headlines delivered to your inbox.