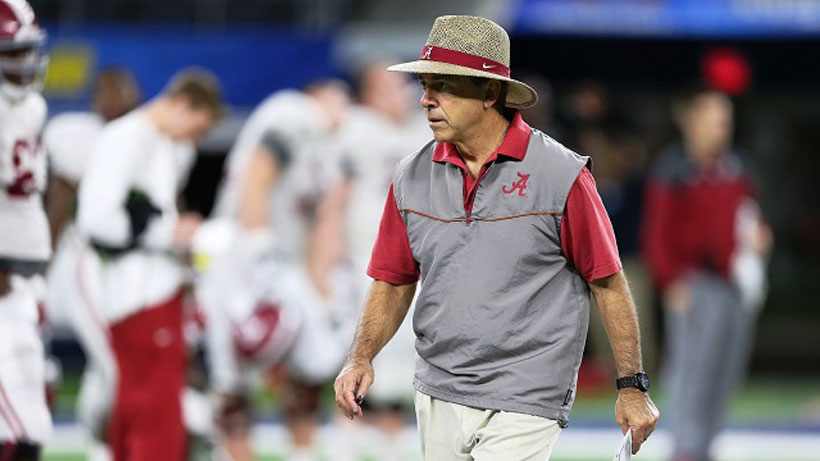 Alabama head football coach Nick Saban had a new contract approved by the compensation committee of the University of Alabama's board of trustees on Tuesday. The new deal is a three-year extension on his current contract that will run through 2024. He received a $4 million signing bonus for agreeing to the contract, which makes his total pay for this year just north of $11.1 million.
According to TideSports.com, a further breakdown of Saban's salary shows him making a base salary of $240,000 this year with a talent fee of $6.48 million and a signing bonus of $4 million. He'll also earn an additional $4 million spread out from 2020 through 2022. This puts him making around $11.15 million this year, $7.15 million next year, $7.55 million in 2019, $10.35 million in 2021, and an average of $8.75 million from 2022 through 2024. The total worth of Saban's package is $65 million, according to a USA Today report.
This makes Saban the highest paid college football coach, eclipsing Michigan coach Jim Harbaugh's $9.004 million salary. According to a USA Today database of coaching salaries in 2016, Saban will be followed by Harbaugh, Ohio State's Urban Meyer at $6.094 million, Oklahoma's Bob Stoops at $5.55 million, Florida State's Jimbo Fisher at $5.25 million, Texas A&M's Kevin Sumlin at $5 million, and Auburn's Gus Malzahn at $4.729 million.
Saban is not the only coach to receive a new contract. All 10 of his assistants received raises. New offensive coordinator Brian Daboll will be making around $1.2 million, and recently hired athletic director Greg Byrne will be making $900,000.
If you juxtapose Saban's contract with the revenue that Alabama football brings to the City of Tuscaloosa, not to mention the notoriety to the University of Alabama, it can be argued that Saban is not only worth what he is paid but even underpaid. According to a USA Today database, Alabama's athletic department brings in more than $148 million on an annual basis. Nick Saban is arguably the most beneficial financial investment UA has ever made, and the leadership of the school is ensuring that he isn't going anywhere.
Don't miss out!  Subscribe today to have Alabama's leading headlines delivered to your inbox.