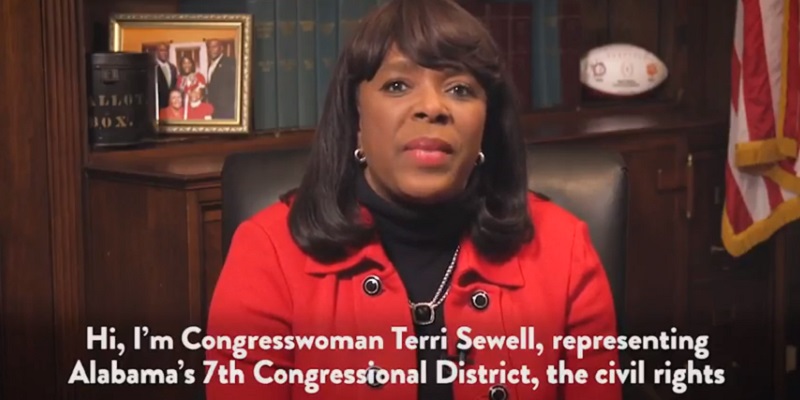 In this week's national Democratic Party address, U.S. Rep. Terri Sewell (D-Birmingham) commemorated the upcoming Martin Luther King Day holiday and touted it as a time to emphasize income inequality given in her view King's vision of equality included economics.
"Dr. King saw economic success for all Americans as a keystone of equality," Sewell said. "He recognized that economic issues were civil rights issues. 'The struggle for genuine equality means economic equality,' Dr. King told a rally of sanitation workers in Memphis, barely two weeks before his death. He said, 'For we know now that it's not enough to integrate lunch counters. What does it profit a man to be able to integrate a lunch counter if he doesn't have enough money to buy a hamburger?'"
Sewell railed against the tax legislation recently signed into law by President Donald Trump by maligning it for what she said favored the wealthy and not the middle class.
"An estimated 83 percent of the tax bill's cuts go to the top 1 percent of America's wealthiest households," Sewell said. "Meanwhile, the tax bill's temporary benefits for the middle-class workers evaporate after just a few years, resulting in a tax increase for 86 million middle-class families."
According to an estimate from the Tax Policy Foundation, the bill will create 4,632 jobs in Alabama raise the middle-income family "by more than $519."
Sewell remains convinced it is a net positive and vowed to fight for better legislation.
"Instead of simplifying the tax code or making it fairer, the GOP tax bill sticks working Americans with $1.5 trillion in debt in order to pay for corporate tax cuts," she added. "While passage of the GOP tax bill will have tragic consequences for our working Americans, I can promise you this: I promise that our fight for middle-class Americans is far from over."
Jeff Poor is a graduate of Auburn University and works as the editor of Breitbart TV. Follow Jeff on Twitter @jeff_poor.