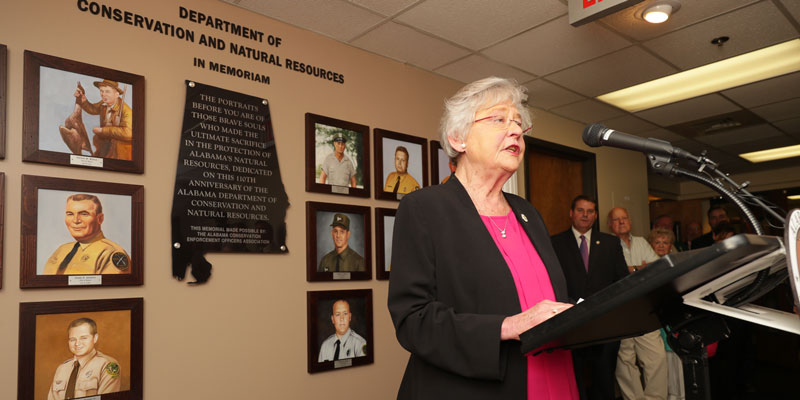 What started as an idea to honor the greatest sacrifice a conservation enforcement officer can make blossomed into a capacity-crowd commemoration of 12 game wardens who gave their lives in the line of duty during the 110-year history of the Alabama Department of Conservation and Natural Resources (DCNR).
Governor Kay Ivey, Conservation Commissioner Chris Blankenship and Matt Weathers, Wildlife and Freshwater Fisheries (WFF) Division Enforcement Chief, shared their appreciation for the officers' sacrifices as DCNR celebrated its birthday.
Weathers said when he became head of Enforcement a year ago, one of his priorities was to come up with some way to honor the officers who have lost their lives on duty.
"This is a long overdue honor of your friends, family and coworkers," Weathers told the crowd that filled the halls on the fifth floor of the Folsom Building in Montgomery. "I'm overjoyed to see this turnout.
"The first thing on my list was to honor the men who had given all they had so that the state could continue to enjoy the natural-resource wealth it has, to protect it from the rampant commercialization that has persisted."
Weathers said he considered several options to honor the officers, including a statue or plaques, but soon realized portraits would be the best option.
"I couldn't stand the thought of speaking to you without having these guys looking over my shoulder," he said. "When this is all over, I think we'll all agree we couldn't imagine having this dedication in any other location."
Weathers said he came to understand what family meant when he joined WFF two decades ago after serving as a police officer for several years.
"It was a lifelong, childhood dream to be a game warden," he said. "I thought I knew what a work family was about, what having brothers and sisters I would die for was about. When I got to Game and Fish, which is what we called it in those days, I realized there was a deeper meaning to family within this agency. As a young officer, not really knowing what I was doing, that I could pick up a radio or telephone at 3 o'clock in the morning and could call an officer in Limestone County or in Baldwin County. They would get out of bed and do anything it took to get me the information to get the help I needed.
"I had found a home. I had found people that I may not ever see or see them on a day-to-day basis who would go to bat for me and get me through any situation. It's family."
Weathers also said the loved ones and friends of those who died in the line of duty would always be members of the Conservation family.
"Their names are forever etched on the history of this organization and will be forever," he said. "To the families, thank you for giving those men to us. They missed Little League games. They missed birthdays and school functions. It's part of the job. Thank you for giving them to us. They serve a goal, a mission, that is greater than any one person."
Governor Ivey read the names of the men who are memorialized on the WFF wall. They are: George S. Wilson, 1922, Montgomery County; Bart Cauley, 1932, Baldwin County; Vernon W. Wilson, 1951, Randolph County; Lloyd C. Hays, 1964, Morgan County; John Roy Beam, 1976, Marshall County; Frank Stewart Jr., 1978, Escambia County; Cecil Craig Chatman, 1982, Lowndes County; Grady R. Jackson, 1984, Pike County; James C. Vines, 1985, Greene County; Jimmy D. Hutto, 2002, Fayette County; James Lance Horner Jr., 2003, Clarke County; and Nathan B. Mims, 2008, Chilton County.
"I'm honored to be with you as we celebrate the history of the Department of Conservation and the 110 years since it was formed," Governor Ivey said. "We're also celebrating the folks who continue to work today to keep our state beautiful and our wildlife healthy and protected. The men and women of this Department do a great service for the people of Alabama, and we want to thank you for your good service. All of us in state government have the same goal. We want to work hard to make our state better for not only now but also future generations."
Governor Ivey recalled the history of the Department of Conservation since it was formed in the Legislature by resolution from Representative John Wallace, who went on to become Conservation's first commissioner. Commissioner Wallace appointed a game warden for each of Alabama's 67 counties.
"From its beginning, the Department has been committed to protecting and conserving wildlife and the natural beauty for our state and generations to come to enjoy," she said. "As citizens of Alabama the beautiful, it is our job to help keep it that way.
"From the very beginning, God told mankind to take care of the earth. And with the efforts of the men and women who work in the Department of Conservation and Natural Resources, you are helping us fulfill that responsibility. This state is so very special. We are proud to live here. We call it home. We are grateful for you protecting what God has given us."
In addition to celebrating the anniversary of the Department, Governor Ivey said it was her honor to join in the dedication of the wall memorializing the sacrifice of the 12 men who gave their lives in the line of duty.
"With this salute to these people, we are reminded of the truth we all know but rarely talk about," Governor Ivey said. "The truth is every day members of law enforcement put their lives on the line to serve Alabama and protect us, including game wardens and other officers who work in Conservation.
"Today we honor the legacy of those who have given their lives in service to this great state. We gather in solemn accord to acknowledge that freedom in a free society is not free. We're reminded of the high price some are called to give in their service on behalf of their fellow man. As Alabamians and Americans, it's important we honor not only this sacrifice but the daily sacrifice of these men and women who serve."
Conservation Commissioner Chris Blankenship thanked WFF Director Chuck Sykes, the WFF Enforcement Section and the Alabama Conservation Enforcement Officers Association for the support that made the wall possible.
"I'm proud to be Commissioner of the Department of Conservation and Natural Resources," Blankenship said. "I enjoy getting to work with such good people every day that are out there protecting our natural resources to make sure our way of life here in Alabama continues. We have a lot of people who respond to the laws of this state and the things we do. But there are some people who don't, which makes the Department of Conservation necessary."
Blankenship said during his early career as an enforcement officer with the Marine Resources Division, he issued one individual multiple citations for the same infraction.
"I asked him why he continued to flaunt the laws," he said. "He told me, 'They didn't save me any dinosaurs, and I'm not planning on saving them any speckled trout.' That is the attitude of a small percentage of the people we deal with."
Blankenship said the first conservation laws in Alabama were implemented in Mobile County in the mid-1800s to regulate oyster harvest. In 1907, legislation was passed that established the Department of Conservation and Natural Resources.
"Our department is necessary because of those people who break the laws and to ensure we have game and fish throughout our state for us, our families and future generations," Blankenship said. "We need our biologists, who assess the populations and recommend seasons and bag limits, and enforcement officers who ensure those regulations are followed. Without enforcement, a certain element would never limit themselves in the taking of the resources. It's called 'tragedy of the commons.' When there is a common resource, some people won't limit themselves. They want to take what they feel is their fair share or more than their share.
"If we do that, we'll end up like we were in the late 1800s, with very few deer, very few turkeys and songbirds in our state because people were not taking care of the resources we have."
Blankenship said because of the work of the Conservation Department, Alabama has thriving deer and turkey populations, great inland fisheries for bass and crappie and the best red snapper, king mackerel and redfish fisheries anywhere along the Gulf Coast.
"I'm especially honored to dedicate this memorial wall to the 12 conservation officers that gave their lives protecting the resources we hold so valuable," Blankenship said. "Ninety percent of the people care about our natural resources and follow the law and want to see our natural resources flourish. It's that other 10 percent that make the enforcement officers' jobs necessary and dangerous. There are many dangers our officers face. Every person our officers encounter has a gun, knife or some other weapon. The weather is also dangerous. I've been caught in bad weather on Mobile Bay or in the Gulf of Mexico where I've prayed that the good Lord would allow me to make it home.
"It was shocking to me that there would be 12 men pictured on this wall. I know how dangerous the job is, but it's still sobering to see this many portraits of lives that have been lost. All of these men are special. All of these families are special. I hope you will join me and pray for the safety of our officers during your time with God every day."
David Rainer is an award-winning writer who has covered Alabama's great outdoors for 25 years. The former outdoors editor at the Mobile Press-Register, he writes for Outdoor Alabama, the website of the Alabama Department of Conservation and Natural Resources.
Don't miss out!  Subscribe today to have Alabama's leading headlines delivered to your inbox.