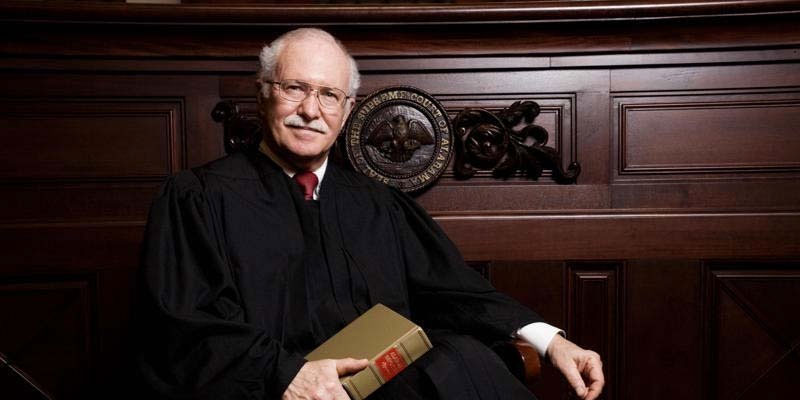 A federal judge in Montgomery on Friday ruled in favor of Alabama Supreme Court Justice Tom Parker in a case that could grant significantly greater freedom to all state court judges to comment on legal matters that are not before them.
Chief U.S. District Judge Keith Watkins issued a preliminary injunction prohibiting the state's Judicial Inquiry Commission from enforcing a provision of the Canons of Judicial Ethics curtailing what judges can say publicly.
The order allows those rules to be enforced against comments that might reasonably be expected to affect the outcome of a case. Otherwise, Watkins wrote, judges have the same free-speech rights as other citizens.
"More generally, what is the state interest in outlawing speech that cannot be seen as affecting the outcome or impairing the fairness of a proceeding?" the judge wrote.
Parker praised the ruling and said he believes the Judicial Inquiring Commission, which investigates ethics complaints against judges, should stop litigating the issue.
"He did the right thing," Parker said. "The Alabama public has the right to know where judges stand on issues of public importance. I am going to continue to speak out."
The impact of the ruling will be felt beyond Parker. All Alabama judges now will have greater freedom to make their views known.
"This is not just a victory for me but for all judges across the state," Parker said.
The case stems from an investigation that the commission launched after Parker make comments on a radio talk show about same-sex marriage in October 2015 as he was campaigning for re-election.
At the time, the U.S. Supreme Court had struck down state bans against gay marriage. But the Alabama Supreme Court had not yet decided a case involving whether probate judges had to issue marriage licenses to same-sex couples. In the radio interview, Parker blasted unelected judges in the federal courts and argued that judicial elections "keep judges in line" and make them accountable to the people.
The Montgomery-based Southern Poverty Law Center filed a complaint against Parker with the Judicial Inquiry Commission based on those comments. Parker sued the commission before it reached a decision. Watkins threw out the suit because the Judicial Inquiry Commission investigation still was ongoing. While the case was before the Atlanta-based 11th U.S. Circuit Court of Appeals, the commission dismissed the Southern Poverty Law Center's complaint.
The appeals court sent the case back to Watkins to determine if there was still a dispute to settle in light of the commission's action. He ruled that there was because Parker still was subject to the cannon's provisions.
Although the ruling by Watkins on Friday was merely a preliminary injunction and does not end the case, the judge determined that Parker demonstrated "substantial likelihood" that he would win the case.
Watkins cited two Supreme Court precedents that struck down restrictions on speech by judicial candidates, one from Minnesota in 2002 and one from Florida in 2015. He ruled that the rule was overly broad, restricting a judge's ability to comment even on matters outside of Alabama.
"Why would the public's confidence be undermined by a judge speaking about an ongoing proceeding in Arizona or Angola?" he wrote. "When it comes to preserving the judicial integrity of Alabama state judges, is speaking about a case pending before the Alabama Supreme Court really the same as discussing the merits of an appeal before the Supreme Court of Seychelles?"
The Liberty Counsel, a nonprofit legal foundation that represented Parker, praised Friday's ruling.
"This is an important victory for free speech for not just Justice Tom Parker but for all judges," the group's founder and chairman, Mat Staver, said in a statement. "This is also a victory for the public because they have a right to hear what judges want to say about the law, especially during elections."
Staver indicated that it is unfair to "gag" every Alabama judge from talking about current issues.
"Every judge who teaches law school students would be silenced by this broad restriction on speech," he stated. "Now, they are free to speak and teach. The muzzle has been removed."
It is unclear how many judges will exercise their newfound latitude, assuming Watkins' ruling stands. Judicial ethics rules or no, judges often are uncomfortable speaking publicly about political or legal issues. Parker said each judge will have to make up his or her mind and added that some judges are happy to use the Cannons of Judicial Ethics as an excuse to stay quiet.
"The cannon has been used as both a sword and a shield," he said.
Brendan Kirby is senior political reporter at LifeZette.com and a Yellowhammer contributor. He also is the author of "Wicked Mobile." Follow him on Twitter.
Don't miss out!  Subscribe today to have Alabama's leading headlines delivered to your inbox.