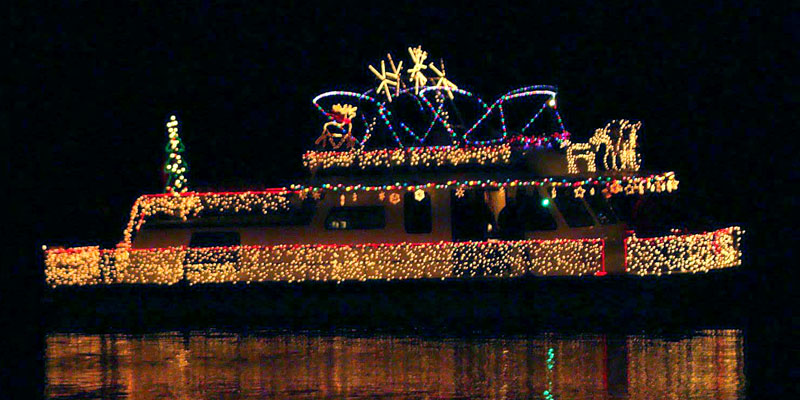 Christmas music is wafting through the air everywhere you go these days, and the Alabama State Parks System will embrace that theme throughout December.
The holiday celebrations began on Dec. 1 with Santa's Underground Workshop at Rickwood Caverns State Park near Warrior, just north of Birmingham. Santa greeted visitors in the cave, which is decorated with Christmas lights. The Underground Workshop will be open through Dec. 23. Admission is $10.
Even if you don't want to see Santa, a trip through Rickwood Caverns is worth the effort. The limestone cave is estimated to be about 260 million years old. The cave is about a mile long with a path of 4,962 feet that descends 175 feet underground. It takes about 45 minutes to an hour to take the tour of the caverns.
A tour of Rickwood Caverns is strictly done on foot, so be aware it's going to take a little effort to see the caverns. The cave features the Bridal Room, where couples once chose to exchange wedding vows. There's the Diamond Room, named for the sparkling quartz and mineral deposits on the ceiling, while the Animal Room gets its name from the formations that appear to be different animals – a rabbit, bear, alligator, shark and Dachshund dog.
Heading south, Gulf State Park will hold its Coastal Christmas Party from 1-3 p.m. Dec. 3. Activities include photos with Santa, a children's choir performance, nature holiday crafts, s'mores made in the fireplace and hot chocolate and cookies.
One of the most cherished events of the Christmas season is the Parade of Lights at Joe Wheeler State Park near Rogersville on Dec. 9. The 42nd annual event can be viewed from Daniella's Restaurant, outside along the banks between the lodge and Marina or from a lodge room balcony. A holiday buffet will be served at Daniella's beginning at 4 p.m. The boats, adorned with a wide array of lights and Christmas decorations, will start the parade along the Tennessee River at 6 p.m. To participate in the parade, call 256-247-6971 or email Joe Wheeler by clicking here.
Cheaha State Park near Anniston has two special events coming up during the holiday season. On Dec. 10, the kids can visit with Santa and Mrs. Claus to discuss their wish lists for Christmas with hot cocoa and cookies.
On Dec. 22, Cheaha will hold a "Mount Crumpit (aka Grinch Mountain) Christmas" from 9-10 a.m. Storyteller Renee Raney will entertain the children with an interactive reading of Dr. Seuss' "How the Grinch Stole Christmas." A breakfast buffet with green eggs and ham and Cindy Lou Who pancakes will follow. Space is limited for both events, however, so call 256-225-2188 to purchase tickets or email Renee Raney by clicking here to reserve a space. Tickets are $10 for the Dec. 10 event and $15 for the Grinch celebration.
For those who just love good eats and beautiful scenery, it's hard to beat the Lake Guntersville State Park holiday buffet each Saturday during December, leading up to the annual Christmas Day Dinner Buffet. The Circle will entertain at the Christmas event with the sounds of the season. Call 256-571-5444 for more information.
In southeast Alabama, Lakepoint Resort State Park will hold its Christmas Buffet at the Water's Edge Restaurant from 11 a.m. to 2 p.m. on Christmas Day. Call 334-687-8011 for reservations.
For those who want to get away from all the hustle and bustle of the holiday season, DeSoto State Park near Fort Payne has just the right answer with its Discover DeSoto Package. Couples can stay for $79 per night at the lodge with the following morning's breakfast included. Call the lodge at 256-845-5380, or visit this link to make reservations.
If you want to do a little more than relax at DeSoto, consider the Wild Breakfast & Nature Experience that is available for $60 for a family of four.
Robert Wilson, a naturalist and wildcraft specialist, will offer a selection of natural harvested (gluten free) grains for a catered pancake breakfast, complete with natural syrups derived from local blackberries or maple and hickory trees. Chaga or sassafras tea rounds out the menu. After breakfast, Wilson will help families make journals from natural materials, followed by a forest discovery walk with Wilson pointing out the vast flora and fauna of beautiful DeSoto State Park.
And veterans, don't forget about the new Parks for Patriots program Alabama State Parks implemented in November that provides veterans with free admission to any state park, park facility or day use area that charges an entrance fee – including boat ramps and the Gulf State Park pier.
Greg Lein, Alabama State Parks Director, said State Parks has offered free admission to veterans on Veterans Day, but expanding the free admission is the "least we can do for those who have made our freedom possible."
A close connection between veterans and the State Parks System has been in existence for a very long time. Several Alabama State Parks were built with help from the Civilian Conservation Corps (CCC), which gave many World War I veterans a job during the Great Depression. DeSoto State Park has a small museum honoring the CCC contribution to the park.
For those who want to support the Parks for Patriots program, the general public can make contributions to the program for any dollar amount. This will be used only to fund free entry for veterans from any branch of the U.S. military.
Sponsorship contributions to the Parks for Patriots program can be made in three ways. Visit this link to make an online contribution. Cash-only contributions can be made at any manned park gate, while cash or credit card sponsorships can be made at most point-of-sale cash registers in park offices, restaurants, camp stores and golf shops. Contributions will be utilized at the park in which they are made. Online contributors will be able to designate the park of their choice.
Visit this link to learn more about the Parks for Patriots program.
For those who might want to walk off a few of those added holiday pounds, six Alabama State Parks will participate in the nationwide First Day Hike Program. Joe Wheeler, Monte Sano, Lake Guntersville, DeSoto, Oak Mountain and Cheaha will offer guided hikes on New Year's Day.
David Rainer is an award-winning writer who has covered Alabama's great outdoors for 25 years.