Law enforcement, elected officials and residents gathered at a Cullman elementary school to talk about an uncomfortable issue facing parents – school shootings. They also got to see a demonstration of new technology that offers a possible solution.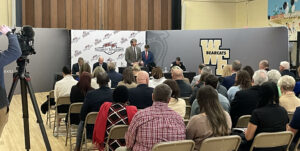 State Sen. Garland Gudger went to kindergarten at West Elementary School and opened by saying today's threats were never something he had to worry about.
"As a father dropping my two boys off at school, you expect them to be safe," he said. "I can't imagine what's happened at some of these other schools across the nation that weren't able to pick their children up."
The device is a deployable, ballistic wall unit in classrooms that can also be used as a multipurpose space. Alabama company KT Solutions said the units can be deployed in less than 10 seconds and offers a level of protection that stops up to a .308- caliber round. 
A teacher who showcased the system in her classroom over the past month demonstrated the rapid deployment.
The room can also be used as shelter during severe weather events and other emergencies. 
Kevin Thomas, CEO of KT Solutions, said his company was creating ballistic equipment for the military last year when he felt called to work on this invention in the days that followed the massacre in Uvalde, Texas. 
"We took something that takes most folks two or three years to do, and we did it in eight months," Thomas said. "What we do have control over is the ability to make things that are innovative in the meantime while we fix the bigger issues."
U.S. Rep. Robert Aderholt commended Thomas on his initiative and said he'd like to see how the system can be implemented in classrooms across the United States.
"It's great to live in a country where there's so much ingenuity," said Aderholt (R-Haleyville). 
State Superintendent Eric Mackey said school safety is the issue that keeps principals up at night.
"From the time they get on the bus until they get home in the afternoon, they are your responsibility," he said.
Mackey said the device demonstrated is "the one investment in government I can think of that I hope we never use."
Don't miss out!  Subscribe today to have Alabama's leading headlines delivered to your inbox.