The number of COVID-19 patients in Alabama hospitals continued to break records this week, and one of the state's foremost experts on infectious diseases is warning the state's largest hospital may need to enter "crisis mode" if numbers keep spiking.
Dr. Jeanne Marrazzo, director of UAB Hospital's Division of Infectious Diseases, briefed reporters on the status of the pandemic in Alabama via videoconference on Tuesday morning.
While Marrazzo assured the public that UAB is "not close now" to a crisis situation she warned that the state was on the path to a frightening situation if hospitalizations continue to mount unabated.
There are currently 2,804 coronavirus patients in Alabama hospitals, a high mark for the state. The Yellowhammer State has set a new high for hospitalizations almost every day since December 2.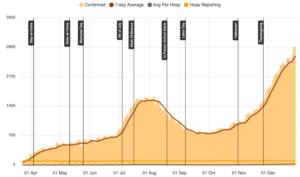 From the beginning of the pandemic until December 1 the largest number of coronavirus patients being treated at hospitals was 1,613.
Alabama is now third in the nation for per-capita COVID-19 hospitalizations, per Marrazzo.
"I wouldn't call it a crisis yet. There are official crisis mode activities that we have not taken yet," said Marrazzo about UAB Hospital, the state's largest, which she described as being generally representative of the state as a whole.
"It is quite possible we will be facing that," she added, saying that a continued spike in the state's coronavirus numbers could trigger grim scenarios at hospitals.
According to Marrazzo, around 20% of the hospital beds at UAB are being taken up by COVID-19 patients currently, and at many other hospitals, that rate is higher.
"We are doing okay but there is a possibility we will not be doing okay in coming weeks," summarized the infectious disease expert summarized.
Worrying Marrazzo is coronavirus transmission that likely occurred as many citizens traveled to see family over the Christmas holiday. She noted that hospitals are still dealing with cases caused by the Thanksgiving surge as many hospitalized with COVID-19 have weeks-long stays in the hospital.
The doctor said Alabama could experience what she called "a spike on top of a surge on top of a spike."
Marrazzo explained that if her hospital was forced to go deep enough into "crisis mode" it could mean the facility would have to begin "limiting admission or having to decide who is sick enough to admit."
"That is a position that makes us very, very anxious," she relayed.
Conversely to the hospitalization numbers, new coronavirus cases in Alabama have fallen sharply in recent days.
Marrazzo cautioned the public against being heartened by the recent drop in reported new cases.
"That number is probably an underestimate given, as you know, we always have delays in testing not just with weekends, but also holidays," she explained.
The doctor expects Alabama will experience a surge in cases in the coming days after the winter holidays conclude.
"I don't want to freak people out but it is really time to say this is potentially going to affect every single person who relies on our health care system," remarked Marrazzo, who said that during the pandemic she has taken care not be sensationalistic but "reality is scary enough this time."
Henry Thornton is a staff writer for Yellowhammer News. You can contact him by email: henry@new-yhn.local or on Twitter @HenryThornton95.