MONTGOMERY — Alabama's coronavirus metrics continued to head in the right direction over the last week, with hospitalizations continuing a sharp decrease.
According to BamaTracker, a site that collects government data on the virus, 951 Alabamians were in the hospital with COVID-19 on Friday. That is down from 1,258 a week ago and constitutes a remarkable decline from the peak of 3,084 on January 11.
On the vaccination side, the Alabama Department of Health (ADPH) is reporting that 530,021 have received a dose of the vaccines and 186,578 individuals have completed the two-dose regimen.
The extreme winter weather experienced in some parts of the state did delay some appointments this week, which have been largely rescheduled for the weekend.

Alabama averaged 710 new cases of the virus each of the last seven days. That seven-day-average metric is down from 967 a week ago and a peak of 3,080 on January 11.
Of Alabama's 67 counties, 54 reported a new coronavirus case on Friday.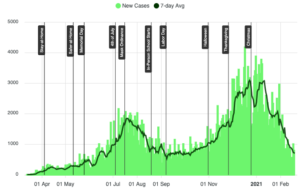 When including rapid tests and other methods of COVID-19 detection, instead of exclusively counting laboratory-confirmed PCR tests, Alabama's average of new cases rises to 935.
The 14-day average of coronavirus tests coming back positive is currently 9.5%, down from 11.8% a week ago.
In Alabama at the current moment, 5.91 tests are being given out for every positive test that comes back.
Around 10% of new coronavirus cases end up needing treatment in the hospital, according to State Health Officer Dr. Scott Harris.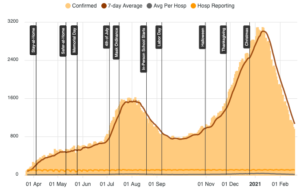 "It is just a breath of fresh air for all of us in health care," said Dr. Sarah Nafziger, UAB Hospital's vice president for Clinical Services, in a media briefing on Friday.
Alabama's death toll from the virus is now estimated to be 9,573. ADPH employees have confirmed 7,514 were due to the coronavirus, with the other 2,059 listed as "probable" COVID-19 deaths. Over the course of the pandemic, very few cases listed in the probable category have not been confirmed as virus-caused.
As of Friday afternoon, 1,032,175 doses of the two approved vaccine products have been delivered to Alabama.
Of those, 717,477 have gotten into the arms of citizens, good for 77.65% of all doses delivered.
Harris shared at a briefing in Montgomery on Friday that Alabama's weekly allotment of first doses being received is set to go up to about 90,000 beginning next week. The state had been receiving around 70,000 in previous weeks.
Both approved vaccine products are administered in two doses given three to four weeks apart.
In total, 530,021 Alabamians have gotten one or more doses as of Friday afternoon. That represents roughly 11% of the state's population, which is estimated to be around 4,900,000 people.
Recent scientific studies have suggested that, two weeks after injection, a single shot of the vaccine products is 85% or more effective at preventing a case of the virus.
Harris said Friday that Alabama will continue to follow federal guidelines and administer the two-shot regimen, which is the way both vaccines were studied in clinical trials.
However, the increasing percentage of individuals who have received one-shot is likely contributing to the decline in cases seen in the state.
Harris also noted Friday that the primary benchmark that Alabama has to hit for ADPH to expand eligibility is a dropoff in demand among those currently eligible.
Currently, citizens age 65 and up, health care workers, first responders, and front-line workers are eligible to receive the vaccines.
"We're not out of the woods, but we see how to get out of the woods," said Harris on Friday. "This is the most optimistic we've been, I think, since this all began."
Henry Thornton is a staff writer for Yellowhammer News. You can contact him by email: henry@new-yhn.local or on Twitter @HenryThornton95.