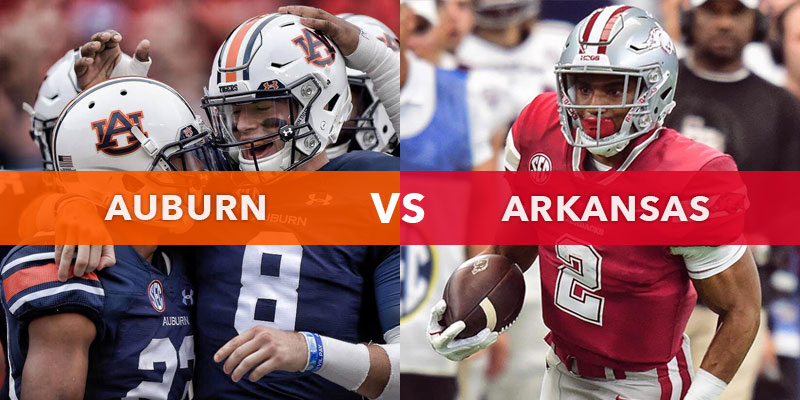 The Auburn Tigers are set to travel to Fayetteville to face off against the Arkansas Razorbacks this Saturday. The next SEC match-up for the Tigers is set to be broadcast on the SEC Network at 6:30 p.m.
Auburn is coming off a devastating loss at the hands of LSU in Baton Rouge. Just as the Tigers appeared to be the dark horse candidate in the SEC West with a shot at the playoff, their dreams went out the door as the offense struggled to produce anything in the second half of the 27-23 loss to LSU. It isn't all over for the Tigers. If they win out, a 10-2 Auburn would be in prime position to appear in the SEC championship and nab a spot in the playoff. However, that won't be easy, with SEC foes Georgia and Alabama lurking at the end of the road in November.
First, the Tigers have to make it through Arkansas. The Razorbacks' dreams of a successful season were crushed nearly before the season began. Last week, Bret Bielema and his team were devoured by Alabama in a 41-9 pummeling. With starting quarterback Austin Allen still out with a shoulder injury, backup QB Cole Kelley is stuck running the Arkansas offense for now. Kelley struggled to get much going against the Crimson Tide last week, throwing for 200 yards with just one touchdown and an interception.
While there's a small chance Allen could return this week, any Razorbacks offense will have a hard time against the aggressive Auburn defense. LSU managed to find holes in the Auburn defense last week, racking up big plays with their signature jet sweeps and exploiting Auburn's secondary for a few downfield passes. However, if the Auburn defense that held Clemson to just 281 yards and two touchdowns shows up, it will be lights out for the Arkansas offense.
Auburn should bounce back in this game, but it will depend on which team shows up. If both sides of the ball show up and play like they have against Missouri, Mississippi State, and Ole Miss, then Auburn should have another SEC win in the books. However, if the same effort and play calling that the Tigers brought to LSU is repeated, Arkansas may give Auburn and Gus Malzahn a run for their money.
Auburn vs. Arkansas Prediction
Auburn – 35
Arkansas – 13