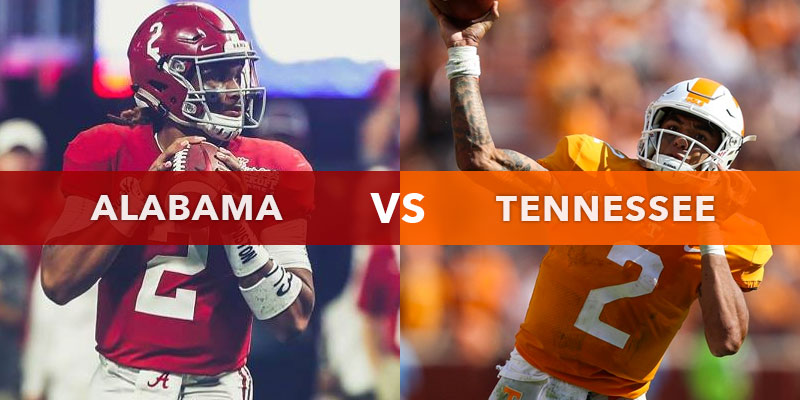 Can you believe it's already the third week in October? Time flies when you're having fun (at least for 'Bama fans). We've seen some great college football the past seven weeks. There have been some quality opponents and compelling storylines. If you regard Saturday as your Sabbath, then you've not been disappointed. However, none of the games or headlines until this point can rival the third week in October. All Alabama and Tennessee fans mark their calendars for this marquee matchup. Heck, some even plan their wedding around it.
This Saturday at 2:15, Alabama and Tennessee will face off in Bryant-Denny for their 100th match-up. Alabama leads the series 53-38-7, and with so much riding on the line for both teams, football fans might be treated to a good one. Alabama is 7-0 and looking for the 17th National Championship. Tennessee's head coach, Butch Jones, is fighting for his job.
With so much on the line, will Alabama continue to roll, or will the Vol's be able to turn their season around? Here are our weekly keys to success, we will let you decide.
Tennessee Defense: As the old saying goes, "defense wins championships." Tennessee ain't winning any championships this year, but the principle still holds true here. If you want to win games, then don't let your opponent score more than you. What's the best way to do that? Stop them with your defense.
Tennessee is operating with a freshman QB that will be making his second start of the season. If that were not bad enough, he's starting his second game in Bryant-Denny. That's a challenging place to play for the most seasoned of QBs.
Most Tennessee fans will agree that they are not expecting the Vol's to put up massive points. While they can score, their best strategy will be to keep Alabama out of the end zone and make the most of the points they do get. If the Vol's defense can slow Jalen Hurts and Co., then they "might" have a shot at pulling off an upset. If they allow Alabama to run downhill, then their fate is all but sealed. So, the key factor is for Tennessee to stop the Tide from scoring, and hope you can sneak in enough points to beat them.
Alabama Offense: Alabama shouldn't have a tough time stopping the Vol's offense. It's underpowered and outgunned. What they don't want to do is get into a slugfest with Tennessee's defense. This will give the Vol's some life, potentially allowing them to play at a higher level than we've seen. If you're Nick Saban, you want to jump on Tennessee fast and strong. If Alabama can run the score up early, it will be nearly impossible for Tennessee to mount a comeback.
Alabama vs. Tennessee
Alabama – 49
Tennessee – 10