According to a poll released by Club for Growth PAC on Monday, Mo Brooks continues to have a significant lead on Katie Britt.
According to the survey conducted October 12-14 on the organization's behalf by WPA Intelligence, a sample of 506 likely GOP voters overwhelmingly support Brooks in Alabama's Republican U.S. Senate primary.
Brooks, who was endorsed by Club for Growth earlier this year, has a 43-point lead over Britt, according to WPA. GOP U.S. Senate hopefuls Jessica Taylor and Lynda Blanchard came in tied at 5% each, with 23% undecided.
However, also included in the poll was the same ballot test question, but posed with Brooks as endorsed by former President Donald Trump.
"As more primary voters become aware that Donald Trump has endorsed Mo Brooks in the Senate primary, Brooks' lead should expand substantially," a release accompanying the poll's release said.
Brooks' number rises 17 points with mention of the Trump endorsement, and the undecided number drops to 9%. Britt gains a point with Blanchard and Taylor both losing ground.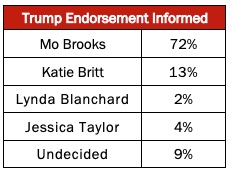 According to the polling methodology, the poll data was collected by live telephone interview, with 45% of the interviews conducted on cell phones and 55% on landline phones.
"The sample was selected from the Alabama voter file and was stratified by geography, age, gender, and vote history to ensure a representative sample," the poll memo adds about the methodology. "The survey has a margin of error of +4.4% at the 95% confidence level."
@Jeff_Poor is a graduate of Auburn University and the University of South Alabama, the editor of Breitbart TV, a columnist for Mobile's Lagniappe Weekly, and host of Mobile's "The Jeff Poor Show" from 9 a.m.-12 p.m. on FM Talk 106.5.
Don't miss out!  Subscribe today to have Alabama's leading headlines delivered to your inbox.