Business Council of Alabama announces Crimson Tide 2016 football advertising sponsorship contest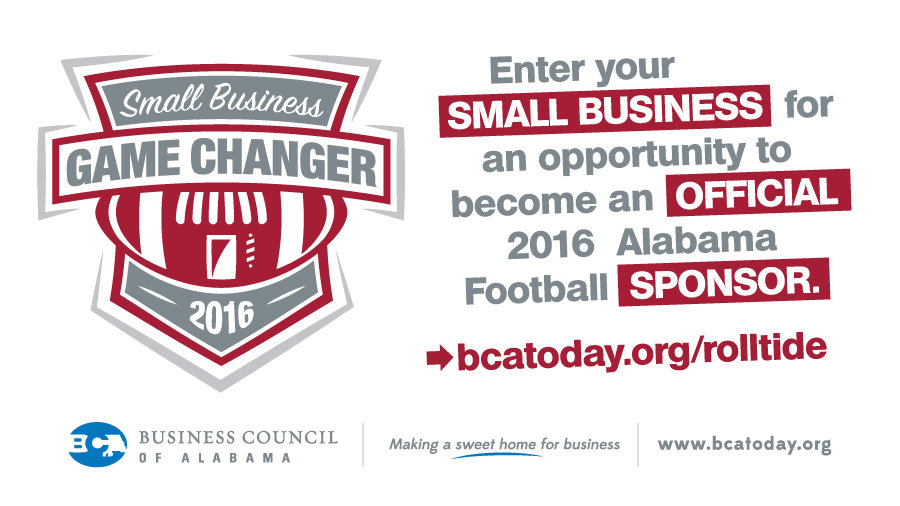 TUSCALOOSA, Ala. — The Business Council of Alabama (BCA) and Crimson Tide Sports Marketing announced Tuesday they are teaming up to award a complimentary football sponsorship to a BCA small-business member that will be displayed at Bryant-Denny Stadium and mentioned on the radio during Crimson Tide football broadcasts for the entire 2016 regular football season.
The successful "Small Business Game Changer" contest entrant will receive a full slate of corporate partner benefits including hospitality, game tickets, in-venue logo recognition, and exposure through the game day publication and the Crimson Tide Radio Network.
"Small businesses are the economic engine of Alabama," said BCA President and CEO William J. Canary. "The Business Council of Alabama recognizes that small businesses provide the majority of jobs for Alabamians, and the Business Council of Alabama stands in the gap every day on behalf of small businessmen and women."
Contest registration opens Sept. 1, 2015, and closes at 5 p.m. CST on Jan. 29, 2016.
One grand prize will be awarded to the eligible contest entrant with the highest scoring essay on why a 2016 Alabama football sponsorship would be a game-changer for his or her business. The company awarded the sponsorship will be notified March 1, 2016, and announced during the 2016 Spring Game.
The grand prize corporate sponsorship package includes 24 radio commercials during Alabama's 12-game season (one 15-second pre-game and one 15-second post-game radio commercial on the Crimson Tide Sports Radio Network during each game), LED recognition in 102,000-capacity Bryant-Denny Stadium for all 2016 home football games, 300,000 impressions on RollTide.com during the 2016 regular schedule, a one-half page ad in the 2016 program, and two season tickets, two corporate hospitality passes, and one parking pass for the 2016 football season.
"A University of Alabama season football sponsorship is a game changer for a small business and is just another way the Business Council of Alabama provides small businesses a voice and the recognition they deserve," Canary explained.
Alabama's tentative 2016 football schedule begins Sept. 3 in Dallas against the University of Southern California, and ends with the traditional Iron Bowl against Auburn University on Nov. 26 in Bryant-Denny Stadium in Tuscaloosa. In addition to Auburn, Alabama's SEC home opponents will include Kentucky, Mississippi State, and Texas A&M. SEC road games will include Arkansas, LSU, Ole Miss, and Tennessee.
The BCA aligned with Crimson Tide Sports Marketing to create this first-of-its-kind opportunity for a state-based business with 50 or fewer employees to gain significant exposure among a passionate, loyal fan base.
Beginning Sept. 1, businesses can register online at www.bcatoday.org/RollTide. The online entry process will require the business to submit in 150 words or less why a 2016 Alabama football sponsorship would be a game-changer for them. Businesses must be BCA members in good standing at the end of the eligibility period, 5 p.m. CST on Jan. 29, 2016.
A panel of judges will review the applications blindly on the creativity, originality, and values and principles expressed in the 150-word entry. The panel will consist of the current BCA chairman; the BCA's Small Business Committee chair(s); a representative of the U.S. Chamber of Commerce; a representative of the National Association of Manufacturers; and the current chairman of the Chamber of Commerce Association of Alabama.
"This is a wonderful opportunity to expose a deserving Alabama small business to fans and the campus community through association with Alabama football," said Jim Carabin, general manager for Crimson Tide Sports Marketing, a Learfield Sports' property and Alabama Athletics' exclusive sports marketing partner. "We're grateful to the Business Council of Alabama for graciously extending this offer and working closely with us to bring it to life. It will bring huge visibility to one company, and we encourage all applicable small businesses to register."
"Small Business Game Changer" is open only to small businesses located in the state of Alabama that are BCA members in good standing. Further eligibility restrictions apply. The contest is void where prohibited by law. For complete contest rules, visit www.bcatoday.org/RollTide.
---
Like this article? Hate it? Follow me and let me know how you feel on Twitter!

— Elizabeth BeShears (@LizEBeesh) January 21, 2015