The Paul W. Bryant Museum has a new temporary exhibit showcasing awards won by University of Alabama star quarterback Bryce Young.
The 2021 Heisman Trophy winner's awards, which will be on display until Nov. 6, were made available for viewing by Young and his parents as a show of gratitude to Tide fans.
Olivia Arnold, director of the Paul W. Bryant Museum, expressed appreciation to the Young family for the loan.
"For the Young family to entrust us with these trophies and awards is such an honor," said Arnold in a release. "The opportunity to display these invaluable items through a charitable loan is greatly appreciated. I know the Alabama family shares the same appreciation and will love to see Bryce's accomplishments in one place for the first time."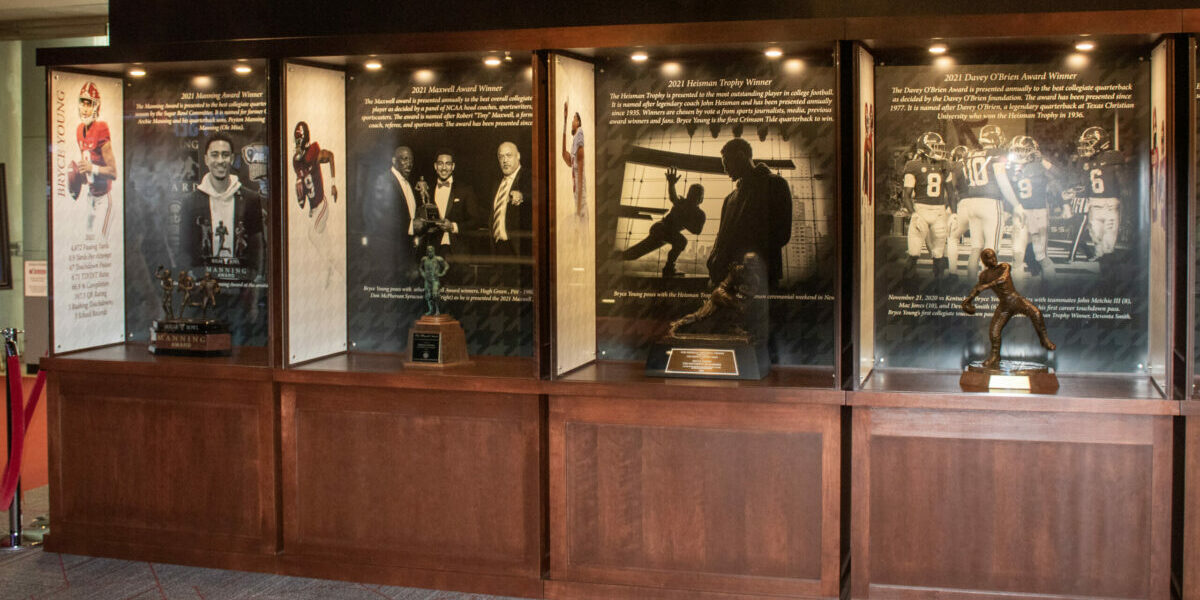 Last season, Young became the first Bama quarterback to claim the Heisman Trophy. In his sophomore campaign, Young was also named The Associated Press College Football Player of the Year and the SEC Offensive Player of the Year.
Young also notched the Davey O'Brien Award, which recognizes the nation's most outstanding quarterback. An additional piece of hardware Young nabbed last year was the Maxwell Award, an honor bestowed upon the best player in college football.
The 2021 consensus All-American also won the Manning Award, which recognizes stellar quarterback performance for regular season and post-season play.
The on-campus museum at 300 Paul W. Bryant Drive is open Tuesday through Sunday from 9 a.m. until 4 p.m.
Admission is $5 for adults, $3 for children (K-12), and free for children under five years of age. There is no charge for Bryant Museum members, UA faculty, staff and students.
Dylan Smith is the editor of Yellowhammer News. You can follow him on Twitter @DylanSmithAL
Don't miss out!  Subscribe today to have Alabama's leading headlines delivered to your inbox.